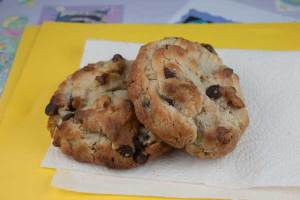 Bisquick Chocolate Chip Cookies
Author: Cookie Madness
Prep time: 10 mins
Cook time: 15 mins
Total time: 25 mins
Chocolate chip cookies made with Bisquick baking mix
1 stick (4 oz) butter, softened (I used unsalted)
1/2 cup brown sugar, packed
1/2 cup sugar
2 teaspoons vanilla
1 large egg
2 1/4 cups Bisquick baking mix
1 cup semi-sweet chocolate chips (6 oz)
1/2 cup nuts, chopped, if desired (optional)
Preheat the oven to 375 degrees F.
In a mixing bowl, bowl, stir together butter, sugars, vanilla and egg until well mixed.
Add the Bisquick and stir until mixed, then add chocolate chips and nuts (if using)
Onto ungreased cookie sheet, drop dough by tablespoons about 2 inches apart; flatten slightly or do not flatten if you want them to look puffy.
Bake for 10-15 minutes or until golden brown. Remove from cookie sheet to cooling rack.
I lost track of the yield, but if you make them smaller you can get up to 24. I think I got about 18.
Recipe by
Cookie Madness
at https://www.cookiemadness.net/2014/09/17/bisquick-chocolate-chip-cookies/