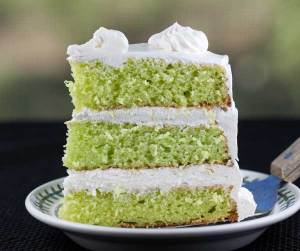 Author: Cookie Madness
Prep time: 30 mins
Cook time: 25 mins
Total time: 55 mins
A cake mix based Key lime cake that starts with a box of lemon cake mix.
1 box lemon cake mix (16.5 oz Duncan Hines Lemon Supreme)
3 ounce package of lime flavored Jell-O
2/3 cup vegetable oil (original recipe called for 1 1/3 cup, but cake doesn't need it)
3/4 cup orange juice
4 large eggs
Flavor Enhancing Glaze
2 tablespoons fresh lime juice or bottled Key lime juice
4-6 tablespoons powdered sugar
Frosting
8 oz cream cheese, softened
1 cup powdered sugar
1/2 scant cup granulated sugar
About 14-16 oz of non-dairy whipped topping**
Preheat oven to 350 degrees F. Grease and flour three 8 inch round cake pans or spray thoroughly with flour-added baking spray. 9 inch pans may be used as well, but the cake will be shorter.
Mix the cake mix, Jell-O, oil, orange juice and eggs in a large bowl and beat well with an electric mixer for about 2 minutes. Pour into pans and bake for 20 to 23 minutes or until a toothpick inserted comes out clean. Let cool for about 10 minutes in the pans, then remove layers from pans. Mix together the lime juice and powdered sugar and spoon over the cake. Let it cool completely.
To make the frosting, mix together cream cheese and sugars and beat with an electric mixer until smooth. Fold in the whipped topping. You can use the full 16 oz or use less to taste. Spread the icing on top of the cakes, then stack and spread it all over the sides. If you feel like it, pipe icing around the edge and garnish with limes.
You can always swap out the whipped topping with lightly sweetened whipped cream.
Recipe by
Cookie Madness
at https://www.cookiemadness.net/2014/10/02/cake-mix-conundrums-and-key-lime-layer-cake/