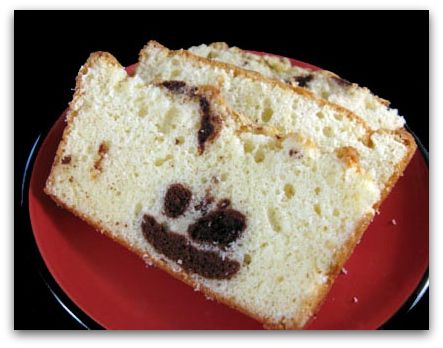 Author: Cookie Madness
Prep time: 20 mins
Cook time: 65 mins
Total time: 1 hour 25 mins
This makes a very light textured vanilla flavored pound cake marbled with chocolate.
1 1/2 cups (165g) cake flour
1/8 teaspoon baking soda
1/2 teaspoon salt
1 stick (114 grams) unsalted butter, cool room temp
1 1/2 cups (300 grams) superfine sugar, divided use**
3 large eggs, separated, room temp**
1/2 teaspoon pure vanilla extract
1/2 teaspoon pure almond extract
1/2 cup (114 grams) sour cream, room temp
1 1/2 oz (42 grams) semisweet chocolate, chopped
1/2 tablespoon (12 grams) vegetable shortening
Preheat oven to 325 degrees F. Grease an 8 1/2 by 4 1/2 inch metal loaf pan and line with a strip of parchment paper. Dust with flour.
Sift together dry ingredients; Set aside.
Beat butter and 1 1/4 cups of the sugar until light and creamy (3-5 minutes). Beat in egg yolks one at a time. Beat in extracts. Add flour mixture and sour cream in alternating portions, beginning and ending with flour.
In a separate bowl beat the egg whites until soft peaks form. Gradually beat in the remaining 1/4 cup of sugar until shiny, soft, billowy peaks form. Do not overbeat. Err on the side of under-beating. Fold egg whites into batter.
In a microwave safe bowl, melt the chocolate and shortening together using 50% power and stirring ever 45 seconds until smooth. Alternatively, you may do this step in a double boiler and start earlier in the process.
Stir 1/4 cup of the cake batter into the chocolate until thoroughly blended, then add about another 3/4 cup of batter and stir until blended.
Layer a little over half of the white batter in the pan. Dot with the chocolate batter, then cover with white batter. Add a few more splotches of chocolate batter and drag a knife through for a marbled effect. Bake on center rack of oven for 65 minutes on center rack or until cake tests done (wooden skewer inserted comes out with moist crumbs).
Cool in pan for about 10 minutes, flip out of pan and invert. Cool completely.
To make neat slices, cut with a serrated knife.
Recipe by
Cookie Madness
at https://www.cookiemadness.net/2008/09/19/marbled-pound-cake-2/