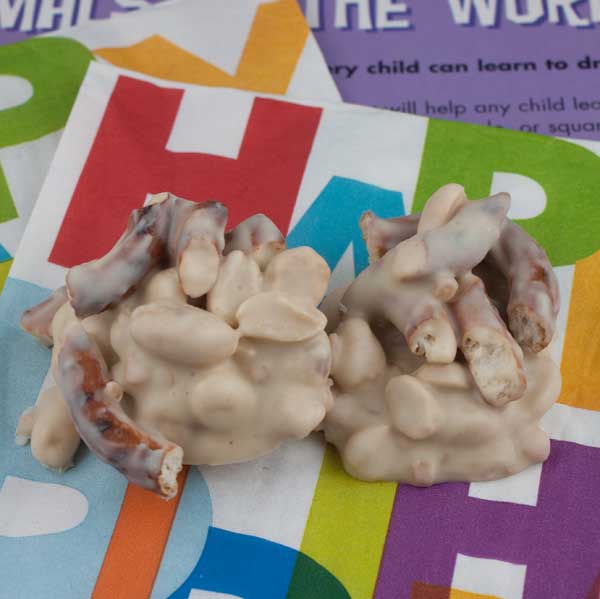 White Chocolate Pretzel Peanut Candies
Author: Cookie Madness
Prep time: 10 mins
Cook time: 1 min
Total time: 11 mins
An easy candy made with broken pretzels, white chips, coconut oil, peanuts, peanut butter and toffee chips.
1 ounce of broken, light and crispy pretzels (about 3/4 cup)
2 tablespoons toffee bits
2 tablespoons lightly salted peanuts
1/2 cup (3 ounces) Ghirardelli white chips
1 teaspoon coconut oil
1 teaspoon creamy peanut butter (mainstream type like Jif)
Line a baking tray with nonstick foil or parchment paper.
Mix together the broken pretzels, toffee bits and peanuts and set aside.
In a small bowl, combine the white chips, coconut oil and peanut butter and stir to coat chips in oil and peanut butter. Microwave at about 40% power for 20 seconds and stir. Repeat, stirring at 20 or 30 second intervals (if you have a more powerful microwave, you might want to go with the 20 seconds) until white chocolate mixture is creamy and smooth.
Add the pretzel mixture and stir to coat. Add more or pretzels/peanuts/toffee if needed. Dry bits should be coated with white chocolate mixture
Drop spoonfuls of candy mixture onto the lined tray and chill until firm.
This makes about 5 or 6 blobs of candy, but the yield will vary depending on how big you make your blobs and what type of pretzels you use. I recommend a really light, puffy pretzel. I used HEB brand sourdough pretzels which are lighter and thicker than their regular pretzels. I'm sure Snyder's sourdough or buttery pretzels would work well, too. Also, be careful melting the white chips. I've found Ghirardelli white chips melt perfectly, especially when you coat them with a little coconut oil and use a very low setting on your microwave. On mine it happens to be 4, but microwaves vary, so you may have to play with it. I've been known to melt white chocolate using the defrost setting.
Recipe by
Cookie Madness
at https://www.cookiemadness.net/2014/10/20/pretzel-peanutty-pie-crust-clusters/