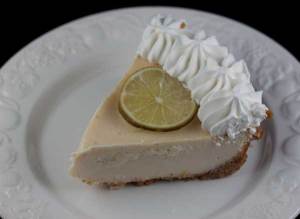 Key Lime Pie with Cream of Coconut
Author: Cookie Madness
Prep time: 20 mins
Cook time: 30 mins
Total time: 50 mins
This pie is similar to Sittin' on the Sandbar Key Lime Pie, but has a graham cracker crust and a dash of Boyajian lime oil.
Crust
1 1/2 cups graham cracker crumbs
1/4 cup granulated sugar
1/3 cup butter, melted
Filling
1-14 ounce can condensed milk
3/4 cup cream of coconut, such as Coco Lopez (well stirred)
8 ounces cream cheese, softened
2 whole eggs
2 egg yolks
3/4 cup key lime juice (I like Nellie's)
1/4 teaspoon lime oil (Boyajian) -- optional, or use 1 teaspoon lime zest
Sweetened Whipped Cream
1 cup heavy whipping cream
1/4 cup powdered sugar
1 teaspoon vanilla extract
Garnish
Make the crust first. Mix together the crumbs, sugar and butter and press into a 9 inch deep dish pie pan. Bake the crust at 375 for 8 minutes. Let cool completely.
Make the filling. In a large mixing bowl, beat the condensed milk and cream of coconut until smooth. Add the cream cheese and beat until smooth, then beat in the eggs and yolks. Add the lime juice and lime oil and beat until smooth. Pour into the pie shell and bake at 325 degrees F. for 30 minutes or until pie appears set.
Let cool at room temperature for about an hour, then transfer to the refrigerator and chill for about 5 hours or until completely cold. Whip the cream and powdered sugar until stiff peaks form, then beat in the vanilla. Pipe the whipped cream around the edges of the pie. Garnish with limes.
This pie can be served chilled or if you prefer, freeze it and cut while frozen.
Notes: I used an Emile Henry pie dish and found that my pie took an extra 10 minutes longer to cook, so I probably cooked it for 40 minutes. In a regular glass pie dish, it should only take 30. For the cream of coconut, I used ½ of a 15 oz can. Make sure to empty the can into another container and stir it really well before using. Coco Lopez separates in the can.
Recipe by
Cookie Madness
at https://www.cookiemadness.net/2014/10/26/key-lime-pie-recipe-cream-cheese/