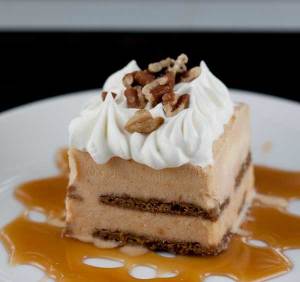 Spiced Pumpkin Ice Cream Squares
Author: Cookie Madness
Prep time: 10 mins
Cook time: 300 mins
Total time: 5 hours 10 mins
Spiced Pumpkin Ice Cream Squares
2 cups canned pumpkin (1 can)
1 cup granulated sugar
1/2 teaspoon salt
1 teaspoon ginger
1 teaspoon cinnamon
1 teaspoon nutmeg
1/2 gallon vanilla ice cream, softened
36 gingersnaps
(16 oz) carton of whipped topping or equivalent homemade sweetened whipped cream
Caramel sauce for garnish
Put the pumpkin in a large bowl and stir in sugar, salt and spices. With a silicone scraper, fold in the softened ice cream and stir until well mixed.
Cover the bottom of a 13x9 inch dish with gingersnaps. Spread half of the ice cream mixture over the cookies, and then add another layer of cookies and ice cream. Freeze for several hours, then spread or pipe whipped cream over the top. Sprinkle with pecans. Drizzle with caramel sauce.
For a half batch, halve all of the ingredients and assemble in an 8 inch square pan.
Check out my note if you're interested in an easy serving method. It requires an extra step, but makes it easier when serving a crowd.
One trick I like to use for serving is this. It's completely optional, but it makes life easier! Before assembling, line the inside of the dish with plastic wrap. Press & Seal works well. Assemble the dessert as directed, but don't add the whipped cream. When it it completely frozen, grasp plastic wrap and lift from dish. Set the dessert on a cutting board and use a chefs knife to cut into squares (or rectangles) or however many servings you want. Fit the cut pieces back in the dish, then top with whipped topping and either return to freezer until ready to serve or serve right away. The pieces will be scored and cut, so you can lift them right out of the pan with a pie spatula.
Recipe by
Cookie Madness
at https://www.cookiemadness.net/2014/10/29/spiced-pumpkin-ice-cream-squares/