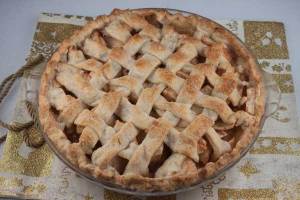 Apple Pie with Buttermilk Crust
Author: Cookie Madness
Prep time: 30 mins
Cook time: 60 mins
Total time: 1 hour 30 mins
This apple pie is for people who appreciate a good crust and love a filling where the flavor of the apples really comes through.
Buttermilk Crust
2 ½ cups (12 ounces) all-purpose flour
2 tablespoons sugar
1 teaspoon kosher salt
2 tablespoons powdered buttermilk**
8 oz unsalted Plugra (European style butter), cut into chunks**
1/2 cup ice water
Apple Filling
3 1/2 pounds apples, cored, peeled and thinly sliced
2-3 tablespoons lemon juice
1/4 cup flour
1/3 cup granulated sugar
1/4 teaspoon salt
1 1/4 teaspoons ground cinnamon
1/4 teaspoon ground nutmeg
1 tablespoon butter, cut into thin pieces
Combine the flour, sugar, salt and buttermilk powder in a food processor. Add butter (and shortening if using) and then pulse until mixture is mostly coarse, but with a few pea-size lumps. Add the water 2 tablespoons at a time, pulsing after each addition, until dough starts to come together. Empty onto a flat surface and push dough together into two compact balls. Wrap in plastic wrap and chill until ready to use.
Preheat the oven to 425°F.
Roll out one round of dough and line a 9 ½ inch deep pie dish with it. Keep chilled while you prepare the filling.
In a large bowl, toss the apples, lemon juice. Mix the flour, sugar, salt and spices together in a separate bowl, and then add to the apples and toss to coat. Pour apple mixture into pie crust, pressing apples down as tightly as you can. Scatter pieces of butter over the apples
For the top crust, roll into another circle and place over the top, pinching ends and cutting vents as usual, or roll out and cut into strips to make lattice.
Put a baking sheet on the lower rack to catch drips.
Bake the pie on the rack above the baking sheet for 20 minutes at 425, then reduce heat to 350 and continue baking at 350 for 35 to 40 minutes or until crust is golden. If crust is browning too quickly, place a sheet of foil loosely over the top. Let cool before serving.
I use SACO brand powdered milk. It's usually found in the baking aisle.
For the butter, you can use a total of 8 oz (1 cup/2 sticks) of butter or use a combination of 1/2 cup butter (4 oz) and 1/2 cup shortening (3.4 oz).
Recipe by
Cookie Madness
at https://www.cookiemadness.net/2014/11/06/apple-pie-with-buttermilk-crust/