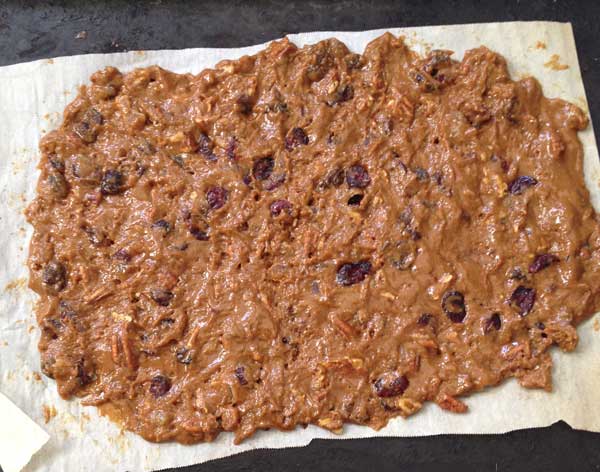 Author: Cookie Madness
Prep time: 10 mins
Cook time: 48 mins
Total time: 58 mins
Ginger cookie bark is a hard and crunchy free-form cookie similar to brownie bark but with flavors of molasses, robust spices, nuts and fruits.
1 cup plus 2 tablespoons (5 ounces) all-purpose flour
½ cup plus 2 tablespoons (5 ounces) packed dark brown sugar
1 teaspoon ground ginger
¾ teaspoon plus a pinch baking powder
1/2 teaspoon ground cinnamon
¼ teaspoon salt
1/8 teaspoon ground nutmeg
1/8 teaspoon baking soda
½ cup pecans, coarsely chopped
½ cup dried cranberries
¼ cup chopped candied ginger (from bulk bin)
1 tablespoon vegetable oil
2 tablespoons molasses
1 large egg
½ teaspoon vanilla
White chips mixed with coconut oil (optional)
Preheat oven to 325°F. Line a large cookie sheet with parchment.
In a large mixing bowl, combine the flour, brown sugar, ginger, baking powder, cinnamon, salt, nutmeg, and baking soda and stir until thoroughly mixed.
In a measuring cup, lightly whisk the oil, molasses, egg, and vanilla. Add the liquid mixture to the dry mixture and mix until dough is well blended and forms a big ball. Work in the nuts, berries and ginger.
Press the dough into a flat slab on a parchment lined heavy duty baking sheet. Keep in mind the dough will rise a bit as it bakes, so try to get it pretty flat (see photo).
Bake on center rack for about 28 minutes or until dough is puffed up, set around the edges and kind of soft set in the center. Pull from the oven and slide onto large cutting board. Let cool for about 3 minutes. With a pizza cutter, cut dough into large, jagged pieces, but do not separate quite yet. Let cool for another 20 minutes.
Carefully separate the pieces so that the edges are exposed. Some may break, but that's okay. Pieces around the edge should be more set. Put the pieces back on the parchment lined baking sheet and bake for 20 minutes at 250 degrees F.
Remove from oven and carefully transfer pieces to a wire rack to cool completely.
Melt some white chocolate & coconut oil and drizzle over top if desired.
Recipe by
Cookie Madness
at https://www.cookiemadness.net/2014/11/24/ginger-cookie-bark/