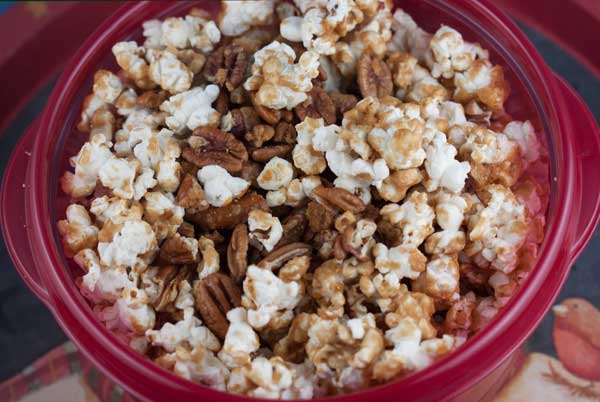 Pecan Pretzel Caramel Corn
Author: Cookie Madness
Prep time: 10 mins
Cook time: 60 mins
Total time: 1 hour 10 mins
An easy caramel corn recipe with candied pretzels and pecans.
8 cups (=popped popcorn, I popped mine in a brown bag in the microwave
3/4 cup pecan halves
8 pretzels, broken into chunks
4 tablespoons unsalted butter, cut into chunks, softened
1/4 cup packed dark brown sugar
1/4 cup granulated sugar
1/4 teaspoon salt
2 tablespoons corn syrup
1/4 to 1/2 teaspoon vanilla extract**
1/4 teaspoon baking soda
Preheat the oven to 250 degrees F. and grease a large roasting pan.
Put the popcorn, pecans and pretzels in the roasting pan.
Combine the softened butter, both sugars, salt and corn syrup in a 2 quart saucepan and bring to a steady boil. Allow the mixture to boil for 3 minutes.
Remove from heat and stir in the soda and vanilla. Pour the mixture evenly over the popcorn mixture and stir to coat.
Bake at 250 for 1 hour, stirring every 20 minutes. Let the corn cool completely (it will crisp as it cools)
I started with 1/4 teaspoon of vanilla, but I suspect some of it evaporates when you pour into the boiling mixture because there was better flavor when I used a full 1/2 teaspoon.
Recipe by
Cookie Madness
at https://www.cookiemadness.net/2014/12/24/pecan-pretzel-caramel-corn/