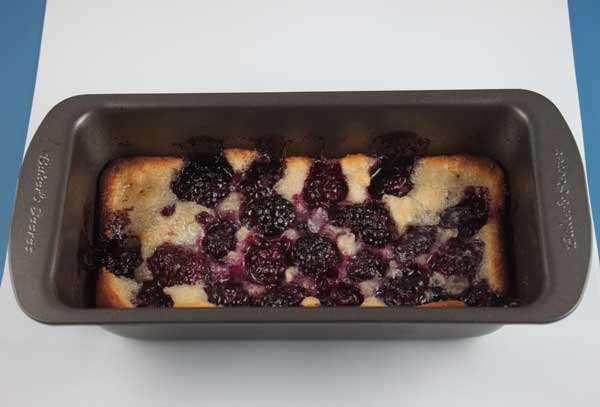 Blackberry Cobbler for Two
Author: Cookie Madness
Prep time: 10 mins
Cook time: 45 mins
Total time: 55 mins
Blackberry Cobbler for Two is baked in a small loaf pan and serves about 2 or 3 people.
3 tablespoons unsalted butter, divided use
1/2 cup all-purpose flour
1/4 teaspoon baking powder
1/4 teaspoon salt – use 1/8 if using salted butter
1/2 cup milk
6 tablespoons of sugar
1/4 teaspoon vanilla
1 pack (6 ounces) of blackberries (heaping cup)
2 teaspoons sugar
Preheat oven to 350 degrees F.
Set 1 tablespoon of the butter aside and put the other 2 tablespoons in an 8x4 inch loaf pan. Set the pan in the oven as it preheats, allowing the butter to melt. Set a timer for 5 minute so that you won't forget about it!
Meanwhile, in a small bowl combine the flour, baking powder, salt and half of the sugar. Add half of the milk and stir until blended. Add remaining sugar, remaining milk and the vanilla until stir until smooth. Pour the batter over the melted butter, but do not stir.
Toss the blackberries with 2 teaspoons of sugar and arrange the berries over the batter. Bake for 45 minutes or until very brown around the edges.
Melt the reserved tablespoon of butter and drizzle it over the top.
I suppose you could serve this hot, but I let it stand for a while before serving. I let it cool completely, sliced it in half without removing from the pan, rewarmed for about 10 minutes in a 350 degree oven and served as two big squares.
If you have a 9x5 inch or slightly larger loaf pan, use these measurements. Melt 3 tablespoons of the butter in the loaf pan and save 1 for topping.

4 tablespoons unsalted butter
3/4 cup all-purpose flour
1/4 teaspoon plus a pinch baking powder
1/4 teaspoon salt plus a pinch
3/4 cup milk
3/4 cup sugar
1/4 teaspoon vanilla plus another small dash
1 1/2 cups blackberries
1 tablespoon sugar
Recipe by
Cookie Madness
at https://www.cookiemadness.net/2015/01/09/blackberry-cobbler-two/