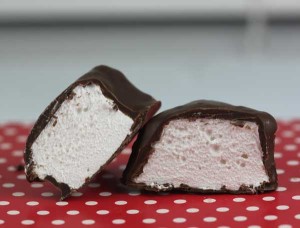 Chocolate Covered Marshmallows
Author: Cookie Madness
Prep time: 30 mins
Cook time: 8 mins
Total time: 38 mins
Chocolate Covered Marshmallows made with homemade marshmallows and melted chocolate
1 cup cold water, divided
3 (1/4-ounce) envelopes unflavored gelatin
2 cups (14 oz) sugar
2/3 cup light corn syrup
1/4 teaspoon salt
2 ½ teaspoon pure vanilla extract
1/4 cup confectioner/s sugar
¼ cup cornstarch
1/2 pound of your favorite dark chocolate for melting
1/2 pound of your favorite milk chocolate
Some coconut oil (optional)
Line 13x9x2-inch metal baking pan with nonstick foil and spray foil with cooking spray. Regular foil is probably fine, but I didn't want to risk it.
Pour 1/2 cup of the cold water into bowl of a stand mixer fitted with whisk attachment and sprinkle gelatin over water. Let gelatin sit and "bloom" for 15 minutes.
Combine 2 cups (14 oz) sugar, corn syrup, salt, and remaining 1/2 cup cold water in heavy medium saucepan. Stir over medium low heat until sugar dissolves, brushing down sides of pan with wet pastry brush. As soon as it begins to boil, cover with a lid and let boil for 2 minutes. Remove lid , insert thermometer and boil until it reaches 240 degree F.
With mixer running at low speed, slowly pour hot syrup into gelatin mixture in thin stream down side of bowl. Gradually increase speed to high and beat until mixture is very thick and stiff, about 15 minutes. Add vanilla and beat to blend, about 30 seconds longer.
Pour marshmallow mixture into prepared pan. Smooth top with wet spatula. Let stand uncovered at room temperature until firm – at least four hours.
Stir confectioner's sugar and cornstarch together in a small bowl, then sift a generous amount of mixture over a clean work surface covering 9x13 inches of space. Invert the marshmallow onto the sugar mixture and peel away the foil. Sift more sugar mixture over marshmallow. Using a sharp knife coated with nonstick spray, cut mixture into cubes. Toss marshmallows squares in remaining sugar mixture.
Chop half the chocolate and put it in the top of a double boiler or a microwave-safe bowl. Add about 2 teaspoons of coconut oil and stir. Melt over simmering water in the double boiler, or melt at 50% power in the microwave, stirring every 30 to 50 seconds (I stir ever 30 seconds for milk and every 50 for dark).
Dip marshmallow squares in chocolate and allow excess to drip back into bowl. Arrange pieces on a small tray lined with nonstick foil. Chill until chocolate is set.
Recipe by
Cookie Madness
at https://www.cookiemadness.net/2015/02/28/chocolate-covered-marshmallows/