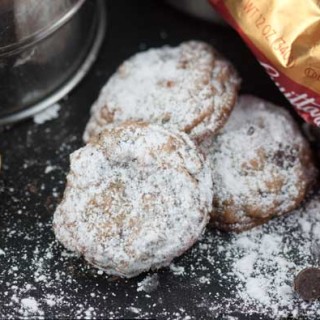 Hal's Favorite Chocolate Chip Cookies
Author: Cookie Madness
Prep time: 10 mins
Cook time: 12 mins
Total time: 22 mins
A cross between chocolate chip cookies and sand tarts, these cookies are perfect for the holidays.
2 cups all-purpose flour
1 teaspoon baking soda
1/2 teaspoon salt
1 teaspoon each cinnamon and ginger
2 sticks (8 oz) salted butter, softened
1 1/2 cups packed brown sugar
A large egg
1 1/2 teaspoons vanilla extract
1 cup chopped pecans, toasted
2 cups semisweet or dark chocolate chips (12 ounces)
Powdered sugar
Preheat oven to 375 degrees. Line a baking sheet with parchment paper or foil.
Mix together flour, baking soda, salt, cinnamon and ginger, and set aside.
In a large mixing bowl, beat butter and brown sugar until creamy. Add the egg and vanilla and stir until blended (do not overbeat at this point).
Gradually add dry ingredients to butter mixture and mix well to form a soft dough, then stir in pecans and chocolate chips. Chill dough several hours or until it is firm enough to shape into balls.
Form the chilled dough into 1-inch balls and roll in powdered sugar. Arrange balls about 2 inches apart on lined baking sheets and bake 8-10 minutes. Let cool on baking sheets about 5 minutes, then transfer to wire racks and dust with more powdered sugar.
Yield will vary. I've been making the cookies smaller and getting about 35 cookies.
Recipe by
Cookie Madness
at https://www.cookiemadness.net/2015/03/11/hals-favorite-chocolate-chip-cookies/