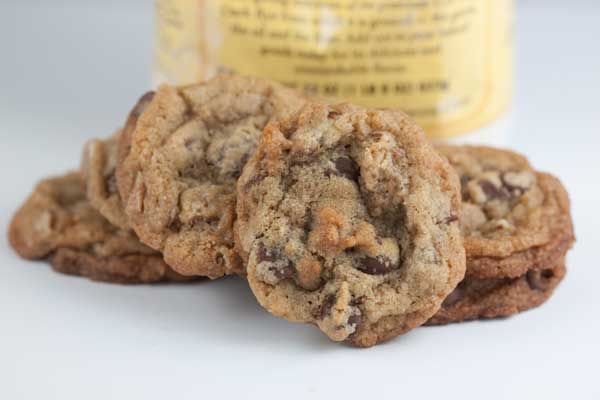 Rye Flour Chocolate Chip Cookies
Author: Cookie Madness
Prep time: 70 mins
Cook time: 10 mins
Total time: 1 hour 20 mins
Toasted pecans really contribute to the texture (and flavor) of these chocolate chip cookies. I haven't tested them without the pecans.
195 grams (1 1/3 cups) bread flour or all-purpose flour
84 grams (2/3 cup) dark rye flour
1 teaspoon baking soda
1 teaspoon salt
230 grams (1 cup) unsalted butter, cool room temperature
295 grams (1 1/2 cups) packed light brown sugar
1 large egg
2 teaspoons vanilla extract
1 cup toasted and chopped pecans (not really optional)
2 cups dark chocolate chips
Mix together flour, rye flour baking soda and salt, and set aside.
In a large mixing bowl, beat butter and brown sugar with an electric mixer until creamy. Add the egg and vanilla and beat until light and fluffy.
Add dry ingredients to butter mixture and mix well to form dough. It should be somewhat dry. Stir in pecans and chocolate chips.
Scoop up level tablespoon of dough and arrange them on a foil lined baking sheet. Don't worry about spacing because this step is just to chill the dough and get the mounds cold.
Chill the dough balls for about an hour or until ready to bake. You should have anywhere from 38 to 42. You can skip this step if you want, but chilling usually improves the shape.
Preheat oven to 375 degrees. Line baking sheets with parchment paper. Arrange balls about 2 inches apart on lined baking sheets and bake 8-10 minutes or until edges are brown and middles appear set. Let cool on baking sheets about 5 minutes, then transfer to wire racks and let cool completely.
Recipe by
Cookie Madness
at https://www.cookiemadness.net/2015/03/15/rye-flour-chocolate-chip-cookies/