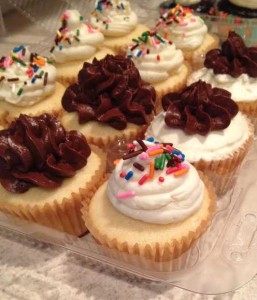 Vanilla Butter Yellow Cupcakes
Author: Cookie Madness
Prep time: 10 mins
Cook time: 25 mins
Total time: 35 mins
Vanilla Butter Yellow Cupcakes are very basic and not overly sweet.
1 1/2 cups White Lily or cake flour (168 grams)
1 1/2 teaspoons baking powder
1/2 teaspoon salt
1/2 cup unsalted butter, softened (114 grams)
3/4 cup sugar (147 grams)
2 large eggs
1 teaspoon vanilla extract
1/2 cup milk
Vanilla Icing
3 cups powdered sugar, sifted
8 tablespoons butter, unsalted (114 grams)
1 to 1 1/2 teaspoons good quality vanilla extract
2 tablespoons of whipping cream
1-2 tablespoons of whole milk or as needed
Pinch of salt
Preheat the oven to 350º F. Line 12 muffin cups with paper or foil liners.
Mix the flour, baking powder and salt in small bowl.
In a mixing bowl, using a handheld electric mixer, beat butter and sugar until light and fluffy.
Add eggs, one at a time, stirring eggs rather than beating, until they are incorporated into the batter. Add vanilla. Beat on medium high with the mixer, scraping sides of bowl.
With mixer on lowest speed or with a rubber scraper, add the flour and milk alternately, stirring until blended. Beat with the mixer on medium for about 10 seconds or just until smooth. Don't over do it.
Divide batter evenly among between the muffins cups. Bake for 20 to 25 minutes or until toothpick inserted in center comes out clean. Let cool in the pan for 5 minutes, then carefully remove from pan and let cool completely before making the frosting.
To make the frosting, gradually stir sugar into the butter until mixed. Add vanilla and beat with a mixer, then add cream and milk and beat until smooth. Add the salt and beat until well mixed.
Recipe by
Cookie Madness
at https://www.cookiemadness.net/2015/05/29/white-lily-butter-yellow-cupcakes/