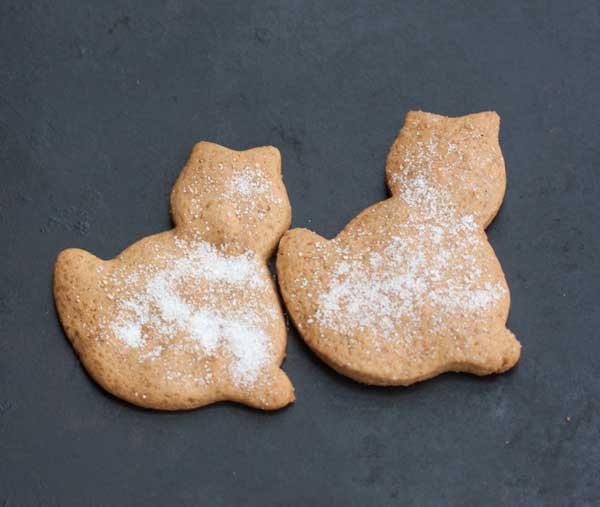 Author: Cookie Madness
Prep time: 10 mins
Cook time: 10 mins
Total time: 20 mins
Cut Out Ginger Cookies that hold their shape well and aren't too sweet. These are perfect for decorating or eating plain.
½ cup unsalted butter (114 grams)
½ cup packed light brown sugar (96 grams)
¼ cup molasses
1 large egg
2 cups all-purpose flour (9 ounces)
½ teaspoon baking powder
¼ teaspoon salt
1 teaspoon ginger
½ teaspoon cinnamon
¼ teaspoon ground nutmeg
In a mixing bowl, beat the butter and brown sugar until creamy. Add the molasses and vanilla and beat until smooth. Scrape down sides of bowl and beat in the egg.
Mix the flour, baking powder, salt, ginger, cinnamon, and nutmeg together in a separate bowl, then add to the butter mixture. Stir until you have a fairly soft dough. Divide dough into two sections, press into thick rounds, wrap tightly and chill for an hour or until ready to use.
When ready to bake, preheat the oven and line a few baking pans with parchment paper.
Leave one section of the dough in the refrigerator while you work with the other section. Roll or pres the dough to about ¼ inch thick on a flour or parchment lined surface. Using cookie cutters, cut out shapes and arrange on the parchment paper lined baking sheets.
Bake cookies for 10 minutes or until they appear set. Sprinkle sugar over the hot cookies (it will melt and adhere) or skip the sugar, let the cookies cool and then decorate.
Yield will vary based on the cutter, but you'll probably get about 20 cookies.
This recipe is adapted from one we found on the back of a 365 Brand brown sugar bag.
Recipe by
Cookie Madness
at https://www.cookiemadness.net/2015/06/12/cut-out-ginger-cookies/