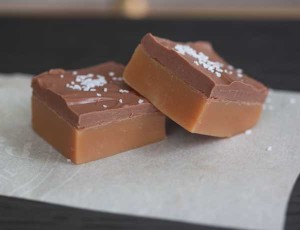 Chocolate Sea Salt Caramels
Author: Cookie Madness
Prep time: 10 mins
Cook time: 15 mins
Total time: 25 mins
Chocolate Sea Salt Caramels are easy to make and call for condensed milk. You can top with sea salt, or just use some coarse kosher.
2 sticks salted butter, softened (228 grams)**
2 cups firmly packed light brown sugar (392 grams)
3/4 light corn syrup
1 (14 oz) can Eagle Brand condensed milk (392 grams)
2 teaspoons vanilla extract
1 bag (10-12 oz) milk or dark chocolate chips
2 teaspoons coconut oil
Sea salt or Kosher salt
Line a 9 inch square pan with nonstick foil.
In a 3 quart nonstick saucepan, stir the softened butter, sugar, corn syrup and condensed milk together until fully blended. Turn on the heat and set it to medium. Cook, stirring every so often with a wooden spoon or heat proof scraper, until boiling (about 6 minutes)
Reduce mixture to a very soft boil – a little over a simmer. Insert candy thermometer and heat to 240 (soft ball stage), stirring often and making sure the heat is rising slowly and steadily. This should take about 20 minutes, and towards the end you'll notice the mixture darkening a bit. When mixture reaches about 240, remove from heat and stir in vanilla. Pour caramel into the pan. Let cool at room temperature for 2 hours, and then cover with melted chocolate.
Combine chocolate chips and coconut oil (or shortening) in a microwave-safe bowl and heat at 50% power, stirring every 30 seconds, until smooth and shiny. Pour chocolate over caramel.
Refrigerate until chocolate is set. When chocolate is set, lift from the pan and cut into squares.
Sprinkle with sea salt before serving.
You can also pour this over any shortbread crust as I did in the second photo. Now that I've made these a time or two, I think I prefer them without a crust.
Recipe by
Cookie Madness
at https://www.cookiemadness.net/2015/07/07/chocolate-sea-salt-caramels/