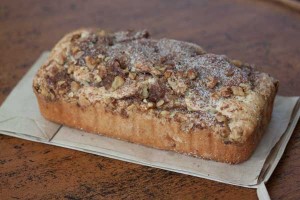 Sour Cream Coffee Cake Loaves
Author: Cookie Madness
Prep time: 10 mins
Cook time: 45 mins
Total time: 55 mins
Sour cream and pastry flour give this coffee cake a light texture.
Cake
1 stick (114 grams) unsalted butter, softened
1 cup (196 grams) sugar
2 large eggs
1 teaspoon vanilla
240 grams cake flour or pastry flour (2 cups plus 2 T.)
1 teaspoon baking powder
1/4 teaspoon baking soda
1/2 teaspoon salt
1 cup (228 grams) sour cream
Topping
1/4 cup granulated sugar
1/4 cup packed brown sugar
2 teaspoons ground cinnamon
1/2 cup (2 ounces) toasted and chopped walnuts
Grease two small (8x3.75) inch disposable loaf pans or two 8x4 inch loaf pans.
With a handheld mixer, beat the butter and sugar until creamy. Using lowest speed of mixer, add eggs one by one. Increase mixer speed to medium high and beat for about 60 seconds, scraping bowl. Beat in vanilla.
In a separate bowl, mix together the flour, baking powder, baking soda and salt. Using a heavy duty scraper or big spoon to stir, add the flour mixture to the butter mixture alternately with the sour cream stirring by hand until mixed.
Mix together both sugars and cinnamon, then stir in the toasted nuts.
Cover bottom of each pan with cake batter (about 1 1/2 cups per pan). Sprinkle a layer of nuts and sugar across the batter layer. Spread remaining batter across nuts and sugar layer in each pan, then top with remaining nuts and sugar.
Set the two loaf pans on a baking sheet and bake at 350 for about 45 minutes or until a skewer inserted comes out clean. Let cool completely. If desired, wrap cooled loaves in plastic and foil, put in freezer bags and freeze.
I got just the right texture when I used 240 grams (8 1/2 oz) of pastry flour. All-purpose and cake flour will work, but the results might be a little different. The key is to use 240 grams or 8 1/2 oz. If you don't have a scale and you are using cake flour, that would be 2 cups and 2 tablespoons. If you are using all-purpose flour (which is a little bit heavier), that would be about 1 3/4 cups plus 2 tablespoons. Of course volume is never really precise so it's hard to say.
Recipe by
Cookie Madness
at https://www.cookiemadness.net/2015/08/21/sour-cream-coffee-cake-loaves/