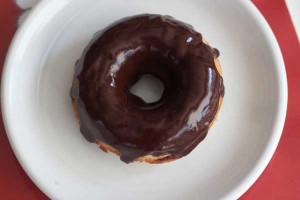 Author: Cookie Madness
Prep time: 10 mins
Cook time: 9 mins
Total time: 19 mins
Baked Cake Donuts have a hint of nutmeg and a dense, cakey, texture. The recipe halves quite easily if you want to make 6. To make 12 you can bake one batch at a time or use 2 pans.
2 cups cake flour (8 oz/230 grams)
3/4 cup granulated sugar
2 teaspoons baking powder
1/4 teaspoon freshly ground nutmeg
1 teaspoon salt
3/4 cup buttermilk
2 large eggs, lightly beaten with a fork
2 tablespoons unsalted butter, melted and slightly cooled
Chocolate Glaze
1/4 cup semi-sweet chocolate chips or 1 ½ oz chopped chocolate
1 tablespoon butter, cut into small chunks
1 tablespoon corn syrup
1 teaspoon of hot water or as needed
Preheat oven to 425°F. Spray a doughnut pan with nonstick cooking spray.
Sift the cake flour, sugar, baking powder, nutmeg and salt into a mixing bowl.
Make a well in the center of the dry ingredients and add the milk, eggs and butter. Beat with a scraper or spoon until combined.
Spoon batter into doughnut pan cavities. You'll have enough for 12 cavities and will need to do this in two batches.
Bake about 9 minutes or until the tops of the doughnuts spring back when touched. Let cool in pan 4-5 minutes before removing.
Repeat using remaining batter. While doughnuts are cooling, make the chocolate glaze.
Glaze: In a 2 cup microwave-safe glass measuring cup (e.g. a Pyrex cup), mix the chocolate chips, butter and corn syrup. Microwave at 50% power stirring every 30 seconds until mixture is melted and smooth. Add hot water to thin. Spoon over doughnuts.
Notes: For vanilla glaze, start with 2 teaspoons of butter, 2/3 cup confectioners' sugar, a dash of vanilla and milk as needed. Melt the butter in a 2 cup microwave safe measuring cup. Stir in the sugar until thick, then add vanilla and enough milk (start with a teaspoon) to make a smooth, pourable or spoonable icing.
Recipe by
Cookie Madness
at https://www.cookiemadness.net/2015/10/09/baked-cake-doughnuts/