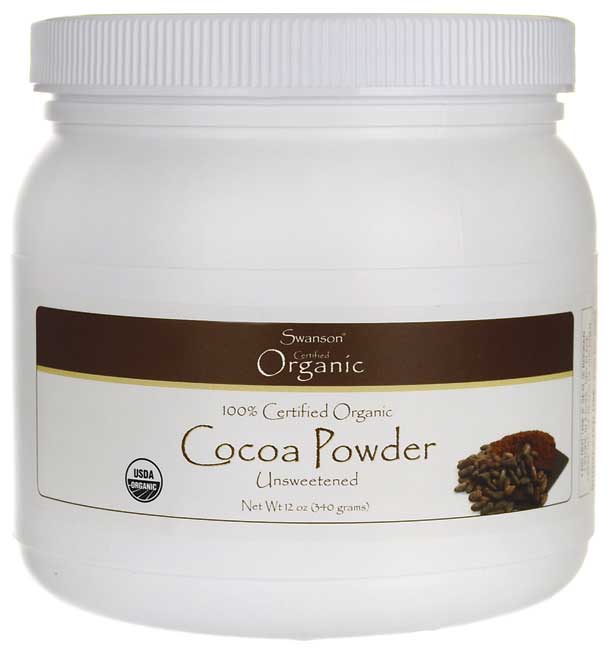 Swanson Organic Cocoa Powder Review
Author: Cookie Madness
Prep time: 10 mins
Cook time: 1 min
Total time: 11 mins
Dairy Free Chocolate Mousse
1 ripe avocado (120 grams, not counting seed or skin)
1/4 cup cocoa powder (21 grams)
1/4 cup maple syrup (60 grams)
1 tablespoon good quality coconut oil (14 grams)
1 teaspoon vanilla
1 can chilled coconut milk or coconut cream (see note)
Scoop the inside out of the avocado and put it in a food process or blender.
Add the cocoa powder, maple syrup, coconut oil and vanilla extract and process, stopping every so often to scrape sides, until smooth.
Open the coconut milk and scoop out the part that has solidified. I used Trader Joe's and had 10 ounces/280 grams of solids and 4 ounces of liquid.
Using an electric mixer, beat the solid part until creamy.
Spoon about 6 ounces (3/4 cup) of the whipped coconut cream into the processor and process until smooth.
Divide the mixture between 3 or 4 small cups. It's very rich, so small servings go a long way.
I used Trader Joe's brand coconut milk which they label as "coconut cream" even though it looks a lot like coconut milk. It might be a bit richer. Even before it was chilled, the Trader Joe's coconut cream had 10 ounces of solids and 4 ounces of liquid. I chilled it anyway so that it would whip quicker. It whipped in about 2 seconds. I spooned about 6 ounces of whipped coconut cream into the mousse and had leftover whipped coconut cream. I added a dash of vanilla and powdered sugar to that and put it on top of the mousse.
Recipe by
Cookie Madness
at https://www.cookiemadness.net/2015/10/26/dairy-free-chocolate-mousse/