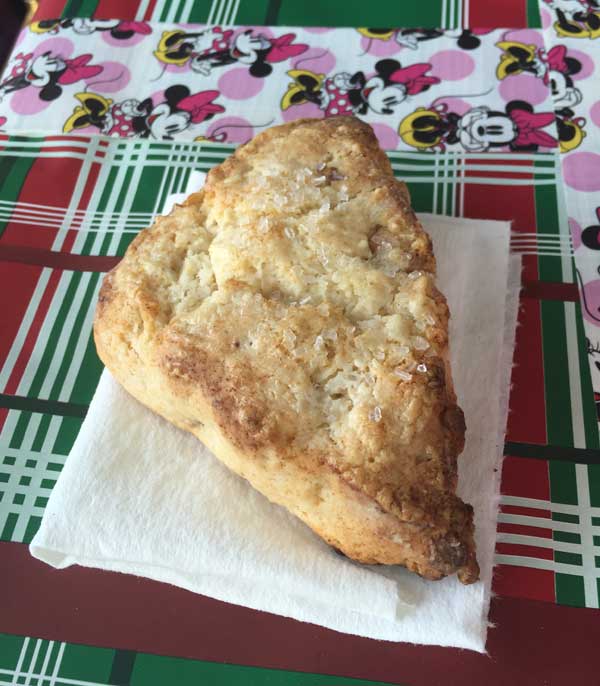 Author: Cookie Madness
Prep time: 10 mins
Cook time: 15 mins
Total time: 25 mins
Coffee shop style rectangular scones flecked with butterscotch morsels.
2 cups all-purpose flour (280 grams/10 oz)**
1/3 cup granulated sugar (64 grams)
1 tablespoon baking powder
1/2 teaspoon salt
1/2 cup cold unsalted butter, cut into chunks (114 grams)
2/3 cup butterscotch morsels or chopped chocolate, nuts and dried berries
3/4 cup whipping cream plus 2 tablespoons for brushing
1/2 teaspoon vanilla extract
Preheat oven to 450 degrees F. Line a heavy duty baking sheet with parchment paper or a Silpat.
Mix the flour, sugar, baking powder and salt very thoroughly in a large mixing bowl.
Cut butter into flour mixture with a pastry cutter until crumbly and coarse.
Add 3/4 cup of cream along with the vanilla and stir to make a thick dough. Stir in the butterscotch morsels or whatever add-ins you like.
On a piece of parchment paper, shape the dough into a 7 inch round. Transfer to the freezer and freeze round for 10 minutes.
With a sharp knife, cut the round into 8 wedges.
Place wedges 2 inches apart on baking sheet. Brush tops of wedges with remaining cream and sprinkle with a little extra sugar if desired.
Bake at 450° for 13 to 15 minutes or until golden. Let sit for about a half hour or so before serving..
For the flour, it's best to use a scale because 280 grams is 2 "heavy" cups (5 oz) of flour. If you want to completely avoid burnt bottoms or have had issues in the past with that happening, stack your parchment lined baking sheet on top of another baking sheet. Also, watch the baking time carefully.
Recipe by
Cookie Madness
at https://www.cookiemadness.net/2015/12/21/butterscotch-scones/