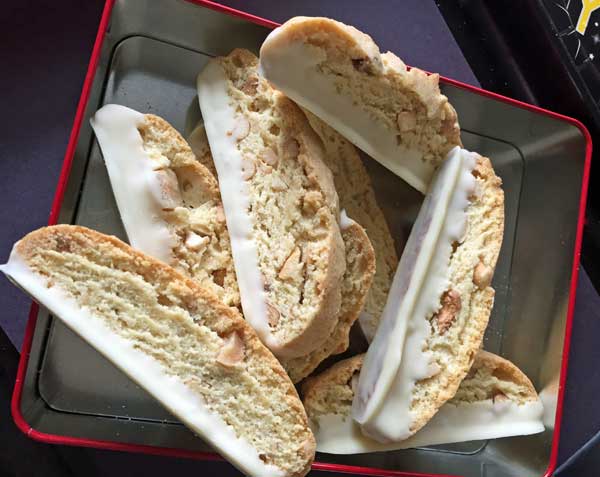 Author: Cookie Madness
Prep time: 10 mins
Cook time: 45 mins
Total time: 55 mins
Mixed Nut Biscotti with White Chocolate is a simple recipe made with eggs, oil, sugar, flour and mixed nuts.
1 3/4 cup unbleached all-purpose flour (230 grams)
1 teaspoon baking powder
1/4 scant teaspoon salt
2 large eggs
3/4 cup granulated sugar (145 grams)
1/4 cup vegetable oil
1/2 teaspoon almond extract
1 teaspoon vanilla extract
1/2 cup finely chopped salted mixed nuts (cashews, almonds, pecans, brazil nuts)
1 bar (3.5 to 4 oz) white chocolate, chopped
Preheat oven to 350F. Line a large baking sheet with parchment paper.
Mix together the flour, baking powder and salt.
Using an electric mixer or a wire whisk, beat the eggs until light and frothy. While beating, gradually add the sugar, followed by the oil and extracts.
With a silicone scraper, stir the flour mixture into the egg mixture. You should end up with a very soft dough.
Scrape the dough out onto the baking sheet. Dampen your fingers and push dough inward to shape it into a log about 12 inches long and about 2 ½ inches wide.
Bake log for 25 minutes or until golden, then remove from the oven and let the log cool.
Reduce the oven temperature to 300F.
When cool enough to handle, slice log crosswise into 1/2-inch to 3/4 slices (depending on personal preference) and stand them upright on a baking sheet so that both sides are exposed.
Bake at 300F for about 20 minutes or until cookies start to feel dry (tap with your finger to check), then let cool completely.
To dip, melt the white chocolate bar in a in a shallow microwave-safe bowl or a ceramic loaf pan or in the top of a double boiler. Dip the flat base of the biscotti into the melted white chocolate, then stand it on a parchment or nonstick foil lined tray that you can fit in the refrigerator. Repeat until the white chocolate is gone, then chill the biscotti briefly to set the white chocolate.
Unsalted nuts are good too. Any nut is good!
Recipe by
Cookie Madness
at https://www.cookiemadness.net/2015/12/30/mixed-nut-biscotti/