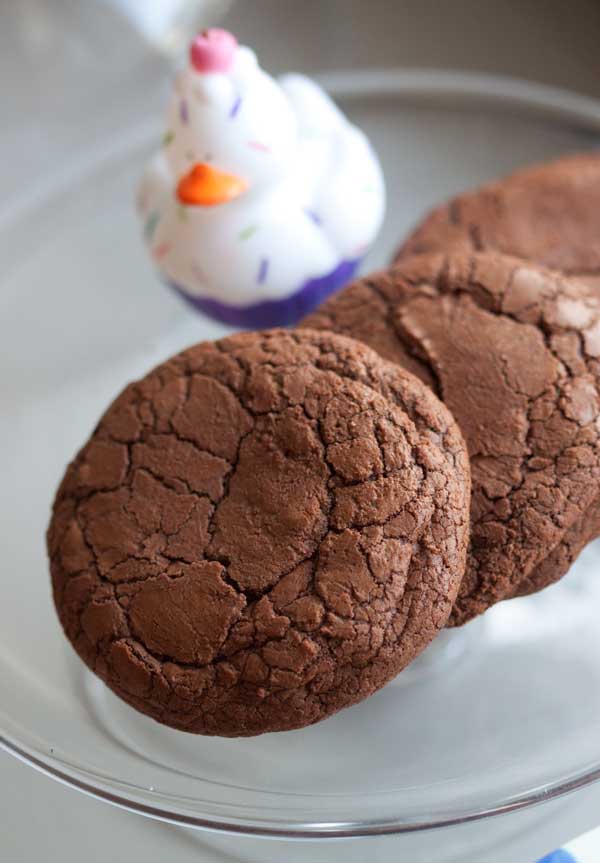 Author: Cookie Madness
Prep time: 10 mins
Cook time: 15 mins
Total time: 25 mins
Chocolate Brownie Cookies adapted from Modern Kosher Cooking by Ronnie Fein. These are perfectly balanced and dense, fudgy and soft. They don't need any added chips or chunks.
4 tablespoons butter (56 grams) -- I used (Kerrygold Salted)
12 ounces semisweet chocolate, chopped (I used Trader Joe's Dark)
1/3 cup (42 grams) all-purpose flour -- I used King Arthur AP
1/4 teaspoon salt
1/4 teaspoon baking powder (Rumford, of course)
2 large eggs plus 1 egg yolk
1/2 cup (100 grams) granulated sugar
1/4 cup (60 grams) packed light brown sugar
1 tablespoon vanilla extract
Do not preheat the oven yet.
Combine the butter and chocolate in a microwave-safe bowl and melt at 50% power, stirring ever 30 seconds or so. Alternatively, you may do this in the top of a double boiler. Set chocolate aside to cool.
While chocolate cools, sift together the flour, salt and baking powder and set aside.
In a large mixing bowl, using an electric mixer, beat the eggs, yolk, both sugars and vanilla on medium speed for about 3 minutes.
Fold the cooled chocolate mixture into the egg mixture.
Add the flour mixture and stir until blended.
Let the batter sit for 20 minutes to thicken. You should not need to refrigerate it, just let it stand.
Preheat oven to 350 degrees F. and line two baking sheet with parchment paper.
Use a 2 ounce scoop or measuring cup to form 12 large mounds. I rolled mine into balls.
Arrange 6 mounds (or balls, in this case) on the baking sheet and bake one sheet at a time for 15 to 17 minutes (check at 13). The cookies should crack and appear moist on the inside.
Let cool completely.
Recipe by
Cookie Madness
at https://www.cookiemadness.net/2016/01/06/24363/