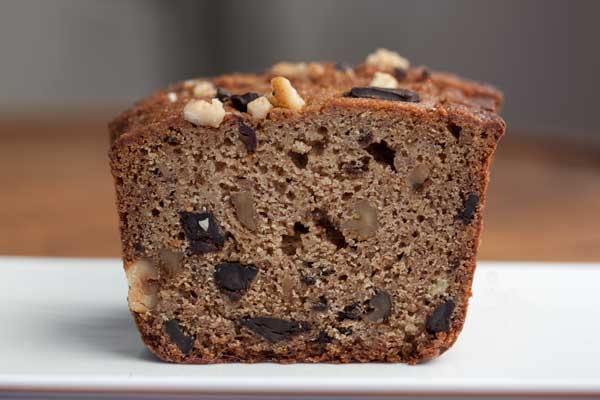 Whole Wheat Chocolate Chunk Banana Bread
Author: Cookie Madness
Prep time: 10 mins
Cook time: 70 mins
Total time: 1 hour 20 mins
Whole Wheat Chocolate Chunk Banana Bread is based on a recipe by Gale Gand
2 sticks (230 grams) unsalted butter, melted and cooled
1/2 cup tightly packed dark brown sugar (110 grams)
1/2 cup honey (150 grams)
2 large eggs (115 grams)
3 very ripe bananas, mashed
1/2 cup sour cream (114 grams)
1 teaspoon vanilla extract
2 cups whole wheat flour (250 grams), stir and aerate well if using volume measure
1 1/2 teaspoons baking soda
1/2 teaspoon salt (omit if using salted butter)
1/2 cup to 3/4 cup chopped and toasted walnuts
2/3 cup good chocolate cut into chunks (or use more if desired)
Preheat the oven to 325 degrees F. Grease and flour a loaf pan (around 9x5, but a little over if possible) and line with a strip of parchment. Dust with flour. Alternatively, you can use two 8x4 inch loaf pans.
With an electric mixer, beat the butter and sugar until well mixed. Add honey and beat well. Add eggs and bananas and beat until blended, then stir in sour cream and vanilla.
In a separate bowl, whisk the flour, baking soda and salt together for about 15 seconds.
Add the flour mixture to the banana mixture and stir until fully blended, then stir in nuts and chocolate chunks. Pour into pan.
Bake until firm on top and toothpick inserted comes out with moist crumbs or internal temperature is between 205 and 210 -- about 70 minutes (cover loosely with foil after 40).
Let cool in pan set on a rack for 30 minutes, then remove from pan and let cool completely.
For a half batch, an 8x4 inch loaf pan works perfectly. Whatever pan you use should be fine so long as you leave about 3/4 to 1 inch room for the bread to climb.
Recipe by
Cookie Madness
at https://www.cookiemadness.net/2016/02/13/whole-wheat-chocolate-chunk-banana-bread/