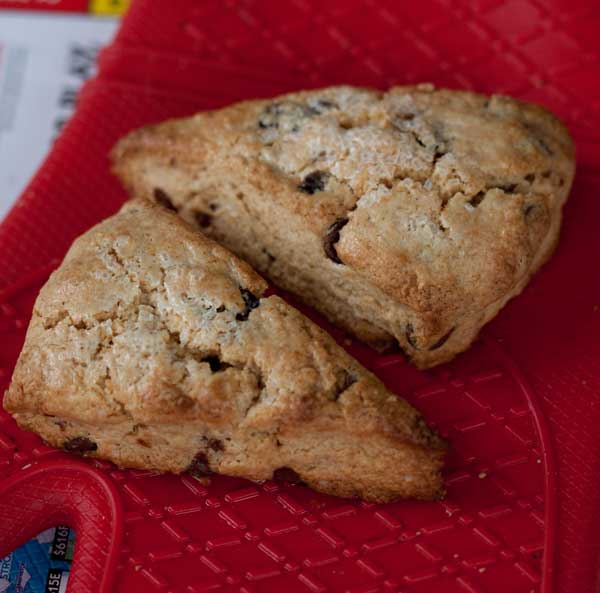 Whole Wheat Chocolate Chip Scones
Author: Cookie Madness
Prep time: 10 mins
Cook time: 20 mins
Total time: 30 mins
Whole Wheat Chocolate Chip Scones are made with whole wheat pastry flour. The pastry flour helps keep the crumb soft and edges crispy.
240 grams (about 2 cups) whole wheat pastry flour
2 tablespoons packed dark brown sugar
2 tablespoons granulated sugar
1 1/2 teaspoons baking powder
3/4 teaspoon salt
1/4 cup unsalted butter, cut into chunks, European style if you have it
1/2 cup dark or semisweet chocolate chips
3/4 cup heavy cream plus extra for brushing
1 teaspoon vanilla extract, vanilla bean paste or vanilla butter & nut extract
Preheat oven to 400 degrees F. Line a heavy duty baking sheet with parchment paper.
Whisk the flour, sugar, baking powder and salt together in a bowl for about 15 seconds. Add the butter and mix with a pastry blender or your fingers until crumbly.
Mix together the cream and vanilla and add to dry ingredients. With a heavy duty scraper, stir to make a somewhat dry dough.
Add the chocolate chips and gently knead the dough just until it comes together. Transfer dough to a sheet of parchment or wax paper and shape into a 1 inch thick circle. It should be about 6 inches in diameter. Cut the circle into 6 or 8 wedges and arrange on the parchment lined baking sheet. Brush the wedges with a little extra cream and bake for 20 minutes or until edges are brown.
Variations: Throw in a handful of dried cherries and/or pecans. Use frozen blueberries instead of chocolate chips.
Recipe by
Cookie Madness
at https://www.cookiemadness.net/2016/02/17/whole-wheat-chocolate-chip-scones/