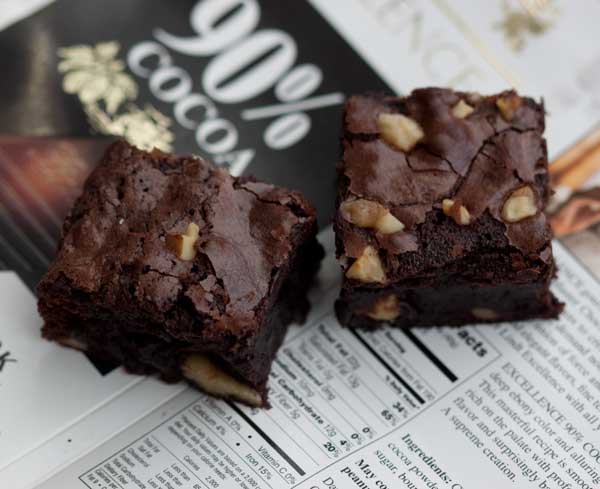 Author: Cookie Madness
Prep time: 10 mins
Cook time: 45 mins
Total time: 55 mins
Walnut Fudge Brownies are made with a mixture of melted unsweetened chocolate and cocoa powder.
1 1/2 sticks (175 grams) unsalted butter, cut into chunks
3 ounces (84 grams) unsweetened chocolate, broken into chunks (Lindt 99%)
1/4 cup (28 grams) unsweetened cocoa powder (Valrhona Dutch process)
1 1/2 cups granulated sugar (295 grams), I like superfine Baker's Sugar
3 large eggs, room temperature (150 grams)
5/8 teaspoon salt
1 1/2 teaspoons vanilla
1/2 cup flour (70 grams)
1/2 cup toasted walnuts
Preheat oven to 325 degrees F. Line an 8 inch metal pan with nonstick foil.
Combine the butter and chocolate in a microwave-safe bowl and heat at 50% power, stirring every 40 seconds, until chocolate mixture is melted and smooth. Alternatively, you can do this in a bowl set over water. Add the cocoa powder to the hot chocolate mixture and stir until smooth, then stir in half (3/4 cup) of the sugar.
Meanwhile, in a second bowl, gently whisk together eggs, remaining ¾ cup sugar, salt and vanilla. Scrape the sugar/egg mixture into the chocolate mixture and stir until blended, then stir in the ½ cup of flour. Stir in the walnuts, then scrape mixture into the pan.
Bake for 40 to 45 minutes or until brownies appear set. If you have a meat thermometer, check to see that they are around 210 to 212 degrees F.
Let the brownies cool at room temperature, then chill for a while before lifting from pan, cutting and serving.
Recipe by
Cookie Madness
at https://www.cookiemadness.net/2016/04/05/walnut-fudge-brownies/