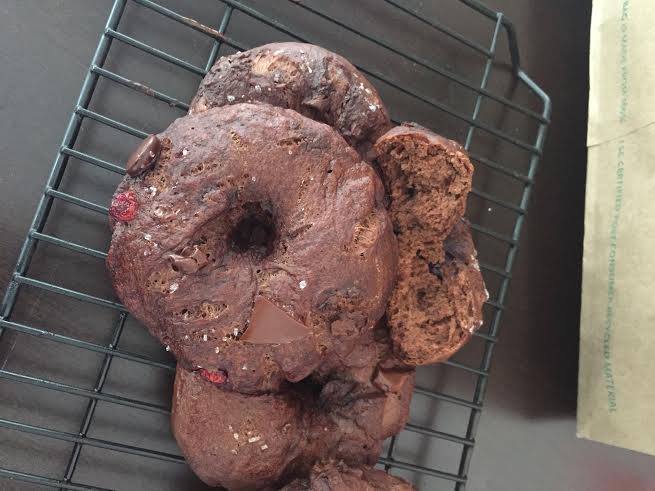 Author: Cookie Madness
Prep time: 200 mins
Cook time: 20 mins
Total time: 3 hours 40 mins
Double Chocolate Bagels are bagels made with cocoa powder and melted chocolate.
1 2/3 cups bread flour
2 tablespoons unsweetened cocoa powder, Natural or Dutch
3/4 tablespoon honey
3/4 tablespoon molasses
2 tablespoons brown sugar, don't pack too tightly
1/2 teaspoon salt (plus an extra pinch)
1/2 teaspoon instant espresso powder (optional)
1/2 packet quick rising yeast (1 1/8 teaspoons)
1/2 teaspoon vanilla extract
1/2 cup very warm water (120 degrees F.)
2 ounce chopped 70% chocolate melted with 1/2 tablespoon butter
1/2 cup Ghirardelli bittersweet chocolate chips, approximate!
Boiling Solution
8 cups water
1 generous tablespoon brown sugar
In a stand mixer bowl, combine 1 1/3 cups of the flour, (reserve 1/3 cup for last), cocoa powder, honey, molasses, brown sugar, salt, espresso powder and yeast. Add 1/2 cup warm water and stir with a mixing spoon or heavy duty scraper until well blended, then add melted chocolate /butter mixture. Stir well, adding remaining 1/3 cup of flour a tablespoon or so at a time or just until the dough feels pretty stiff.
Attach the dough hook to the mixer and knead for 8 minutes or until dough is smooth and elastic. It should leave the sides of the bowl as it's being kneaded, but might stick to the bottom.
Put the dough in an oiled bowl and roll it around so it's slick, then cover and let rise for 2 hours. It will rise a bit, but don't expect it to double in bulk.
Punch down dough and divide it into 6 balls. Working one ball at a time, press flat, put about 7 chocolate chips in the middle, then squish back into a ball and shape into a bagel. Make sure the chips are completely enveloped by the dough.
Set on a greased parchment lined baking sheet, cover (I use an upside down 13x9 inch pan) and let rise in a warm place for about an hour. .
Preheat oven to 400 degrees F. In a deep stockpot, bring 8 cups of water to a gentle boil. Add the brown sugar. Reduce heat to a good simmer or very low boil. Carefully drop in as many bagels as will fit and boil them very gently for 2 minutes, turning halfway through. Drain with a slotted spoon or spatula and return to the parchment lined baking sheet.
Bake the bagels for about 20-22 minutes at 400 degrees F. Allow them to cool completely or serve while warm. If you like, let them cool and then drizzle with melted chocolate.
The best way to measure flour for bread (especially when dealing with volume rather than weights) is to reserve a portion of the flour and add it little by little at the end, using just enough to make a stiff dough. In this case, I did use the full 1 2/3 cup of flour.
Recipe by
Cookie Madness
at https://www.cookiemadness.net/2016/05/12/double-chocolate-bagels/