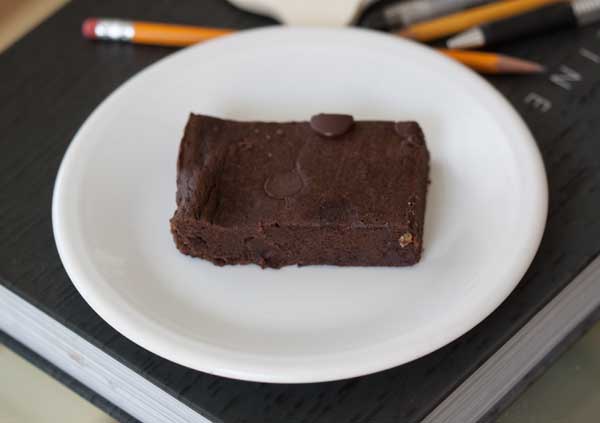 Favorite Black Bean Brownies
Author: Cookie Madness
Prep time: 10 mins
Cook time: 30 mins
Total time: 40 mins
Favorite Black Bean Brownies are made with black beans, coconut oil, cocoa powder and chocolate chips. For more flavor, I used demerara sugar in place of granulated.
1 (15 oz) can black beans, drained and rinsed
3/4 cup demerara sugar (or just use granulated)
3 tablespoons melted butter flavored coconut oil (or any kind of oil)
1/4 cup unsweetened natural cocoa powder (I used Rodelle Dutch)
1/8 teaspoon salt
2 teaspoons vanilla extract
1 teaspoon instant espresso powder (optional)
3 large eggs
1/4 cup bittersweet chocolate chips plus a few extra
Preheat oven to 350 degrees F. Line an 8 inch metal pan with foil and grease foil.
Put the drained black beans in a food processor (or blender) and process until very smooth. Add the sugar and process for another minute or two, stopping once to scrape the sides of the processor.
Add melted coconut oil, cocoa powder, salt, vanilla, espresso powder and eggs and process until very smooth. Batter will be fairly thin, so be careful removing the processor bowl if using a processor.
Pour the mixture into the pan and stir in the chocolate chips, coating them with batter but allowing some to poke through the top.
Bake for about 30 minutes or until the top is dry and the edges start to pull away from the sides of the pan. The top will look dry, but the brownies might be a little shaky and seem underdone on the inside at first. This is okay – just let them cool completely.
Cover the brownies and store in the refrigerator. Bring them to room temperature the next day and they'll taste even better!
Recipe by
Cookie Madness
at https://www.cookiemadness.net/2016/05/16/favorite-black-bean-brownies/