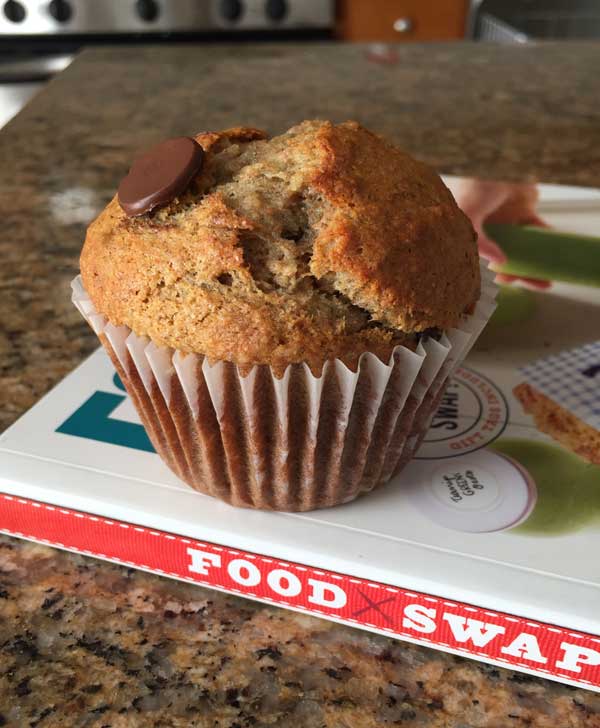 Chicago Food Swap Banana Chocolate Muffins
Author: Cookie Madness
Prep time: 10 mins
Cook time: 20 mins
Total time: 30 mins
This recipe comes from swapper Genevieve Boehme, a regular at the Chicago Food Swap, where these muffins are very popular. Genevieve has adapted a favorite recipe to include whole grains and be less sweet than the typical breakfast muffin. With whole-wheat flour, wheat germ, and bananas, these muffins are practically health food. Okay, maybe not. But the whole grains do add a delightful nuttiness.
1 1/2 cups all-purpose flour
1 1/2 cups whole-wheat flour
1 cup sugar
2 tablespoons ground flaxseed or wheat germ
1 tablespoon baking soda
1 teaspoon salt
1/2 teaspoon ground nutmeg
1/2 teaspoon ground ginger
1 cup vegetable oil
2 large eggs, at room temperature
5 overripe bananas, mashed
6 tablespoons buttermilk
1½ cups semisweet chocolate chips
Preheat the oven to 375°F (190°C). Grease muffin pans or line with paper liners.
Combine the flours, sugar, flaxseed, baking soda, salt, nutmeg, and ginger in a medium bowl and whisk thoroughly with a fork.
Whisk together the oil, eggs, bananas, and buttermilk in a large bowl until well combined.
Add the dry mixture to the wet ingredients, and mix well with a fork until everything is well incorporated. Fold in the chocolate chips.
Scoop the batter into the muffin pans, filling the cups three fourths full. (An ice cream scoop works well for this purpose.)
Bake for 18 to 22 minutes until muffins are golden brown and the tops spring back when touched. Cool them in the pan for about 5 minutes, then remove to a wire rack.
Packaging
Genevieve packages these muffins by four in a quart-size box, such as those you find at farmers' markets, lined with parchment paper. Cover with plastic wrap, tie with a pretty ribbon, and add a tag for an attractive presentation.
Recipe by
Cookie Madness
at https://www.cookiemadness.net/2016/05/18/food-swap-banana-chocolate-muffins/