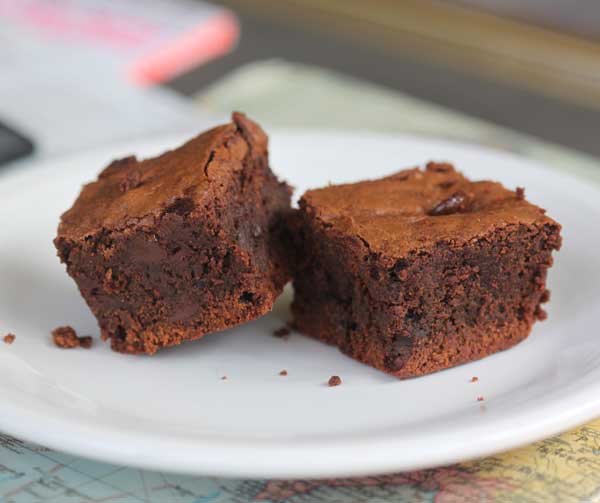 Chocoholic Chile Brownies
Author: Cookie Madness
Prep time: 10 mins
Cook time: 35 mins
Total time: 45 mins
Rick's Chocoholic Chile Brownies are super thick brownies with a tiny bit of heat and fruity flavor from ancho chiles. 2 tablespoons pasilla negro chiles may also be used, but I was happy with the ancho version.
1 stick (4 oz) unsalted butter, cut into small pieces
5 ounces semisweet chocolate, chopped
2 ounces unsweetened chocolate, chopped
1 cup unbleached all-purpose flour**
3 tablespoon unsweetened natural cocoa powder
1 tablespoon ancho chili powder (may use more if desired)
1/2 teaspoon salt
3 large eggs
1/2 cup lightly packed brown sugar (3.5 oz)
3/4 cup sugar (5.25 oz)
2 teaspoons vanilla extract
1 cup semisweet chocolate chips
Preheat oven to 350 degrees. Line an 8 inch square metal pan with nonstick foil.
In heatproof bowl set over a pot of simmering water or in the top of a double boiler, melt the butter, and both the semisweet and unsweetened chocolates, stirring occasionally until smooth. Remove the chocolate mixture from the heat and let cool.
While chocolate cools, whisk together the flour, cocoa powder, salt and ancho powder.
In a mixing bowl, whisk together the eggs, both sugars and vanilla.
With a rubber spatula, fold the chocolate mixture and egg mixture together. Stir the flour mixture in and mix just until blended, then stir in the chocolate chips.
Pour mixture into prepared pan and spread into corners.
Bake on center rack until a toothpick inserted in the center comes out clean or the internal temperature measures 212 with a meat thermometer (it should start lower and gradually rise). Cool completely (at least 2 hours) on a wire rack. If desired, chill for 24 hours before serving or serve immediately. To serve, lift from pan, transfer to a cutting board and cut into squares.
I used a 4.5 oz (weight) cup of flour. Next time I'll probably with a 5 oz cup.
Ancho is usually not very hot. If you want a little more heat you can add a pinch of cayenne or red pepper flakes to the batter or throw in some red pepper flakes.
Recipe by
Cookie Madness
at https://www.cookiemadness.net/2016/05/29/chocoholic-chile-brownies/