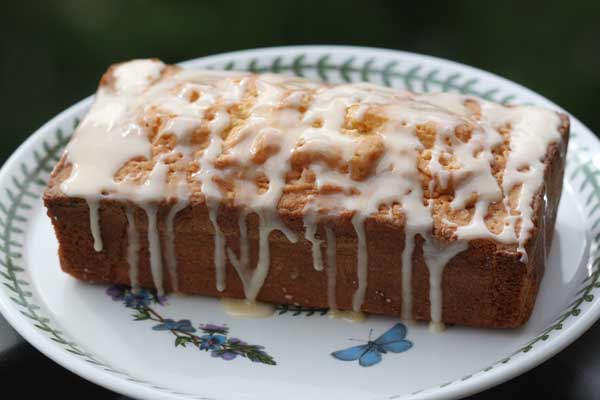 Author: Cookie Madness
Prep time: 20 mins
Cook time: 65 mins
Total time: 1 hour 25 mins
Lemon Apricot Loaf is a lemon flavored pound cake made with lemon oil and apricot nectar
12 tablespoons (6 oz) unsalted butter at cool room temperature
1 1/3 cup ultra fine sugar or regular granulated
2 extra large eggs
1 extra large egg yolk
1 teaspoon lemon oil (Boyajian) or 1/2 teaspoon lemon extract
1/2 teaspoon salt
1 1/2 cups SIFTED cake flour (sift and then measure about 5.4 oz by weight total)
1/4 cup plus 2 tablespoons apricot nectar
Glaze:
1 cup powdered sugar mixed with 2 tablespoons of apricot nectar or lemon juice (I recommend lemon juice)
Preheat oven to 325 degrees F. Thoroughly grease an 8 ½ by 4 ½ inch with at least 6 cup capacity loaf pan and line with a strip of parchment paper. Dust with flour.
In the bowl of a stand mixer with the whisk attached, beat the butter until creamy. Gradually add the sugar and continue beating, scraping bowl often, for about 3 minutes.
Add one egg and beat on medium-low just until incorporated, then increase mixer speed and beat for 30 seconds. Repeat with second egg and egg yolk, starting at medium-low until egg is incorporated, and then mixing on high. When all eggs are incorporated, let the mixer go for about 3 minutes, stopping once to scrape the side of the bowl. The goal is a light whipped mixture. Beat in the lemon oil and salt.
Remove bowl from mixer stand, and with a heavy silicone scraper, stir in the flour alternately with the apricot nectar until batter is blended. Beat by hand for about 40 strokes. Scrape it into the prepared loaf pan.
Bake cake for about 60 to 65 minutes or until it appears set and skewer inserted comes out clean. Let cool for about 10 minutes, then loosen any stuck edges with a knife. Let cool for 40 minutes in the pan set on a rack.
When completely cool, lift from the pan, wrap tightly and freeze or serve immediately. I found that in both cases, this cake was even better after being frozen and thawed.
8 tablespoons of butter and 4 tablespoons of shortening also works. If you don't like traditional shortening, try the non-hydrogenated kind.
Recipe by
Cookie Madness
at https://www.cookiemadness.net/2016/07/12/lemon-apricot-loaf/