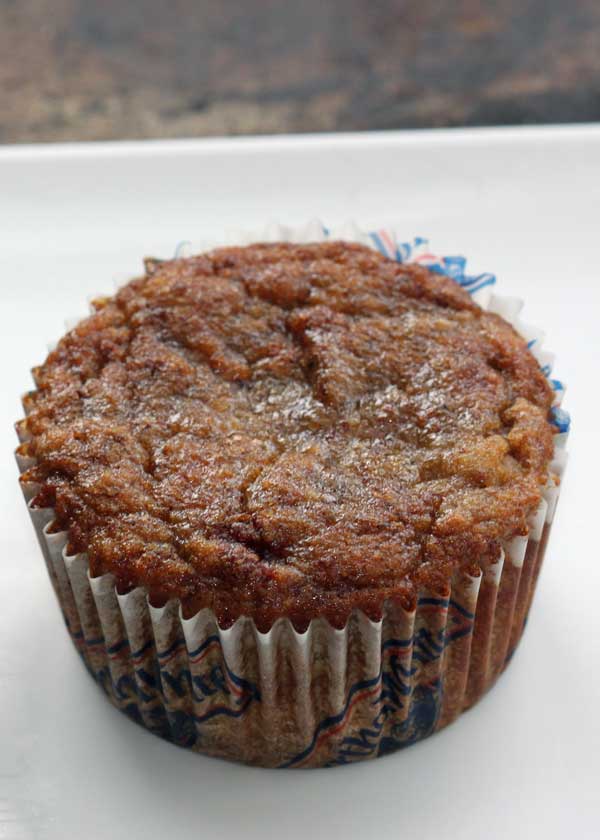 Grain Free Banana Muffins
Author: Cookie Madness
Prep time: 10 mins
Cook time: 25 mins
Total time: 35 mins
Grain free banana muffins made with almond meal and coconut flour.
2 large bananas (160 grams)
2 large eggs, room temperature
4 teaspoons melted coconut oil (16 grams)
2 tablespoons plus 2 teaspoons honey (50 grams)
1/2 teaspoon vanilla
1/2 cup almond meal (40 grams)
2 tablespoons plus 2 teaspoons coconut flour (20 grams)
1/2 teaspoon baking soda
1/8 teaspoon salt
Preheat the oven to 350°F. Line 6 muffins cups with paper liners.
Put the bananas in a mixing bowl and mash them. Measure or weigh to make sure you have 2/3 of a cup mashed banana or 160 grams weight.
Whisk the egg, melted coconut oil, honey and vanilla in with the banana.
Add the almond flour, coconut flour, baking soda and salt; stir until blended.
Divide batter between the muffin cups (it should come about 1/2 inch from the top) and bake 25 minutes or until muffins appear brown and set.
Let the muffins cool for about 5 minutes in the pans, then remove from pans and let cool completely.
Recipe by
Cookie Madness
at https://www.cookiemadness.net/2016/07/16/grain-free-banana-muffins/