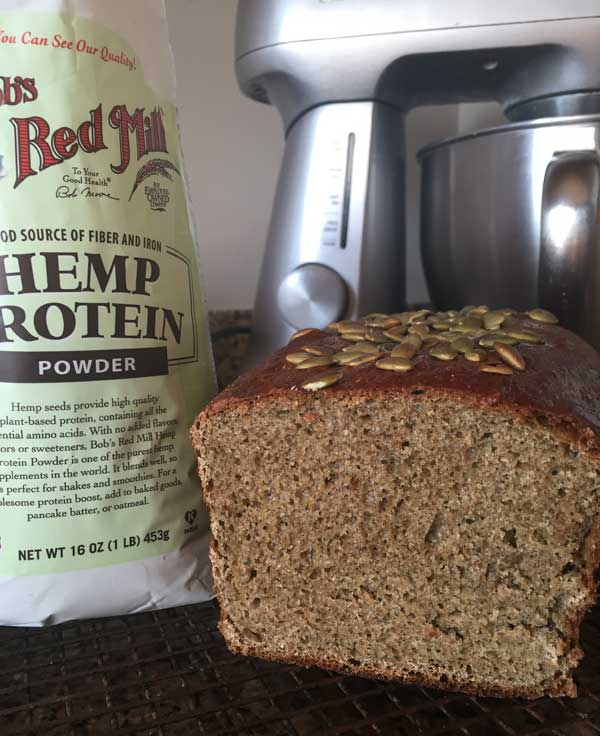 Hemp Protein Powder Bread
Author: Cookie Madness
Prep time: 20 mins
Cook time: 200 mins
Total time: 3 hours 40 mins
Hemp Protein Powder Bread is a twist on the old Cornell Bread which was made with a combination of all-purpose flour and soy flour.
1 1/2 cups warm water (see variation)
1 packet active dry yeast (2 1/4 teaspoons)
1 tablespoon vegetable oil
1 1/2 cups whole wheat flour (7.5 oz) -- I used the weight, volume is estimate
1 1/2 cups bread flour (7.5 oz) I used the weight, volume is an estimate
1/2 cup hemp protein powder or soy flour
1 1/2 tablespoons wheat germ
1/4 cup plus 2 tablespoons dry milk powder (see almond milk variation)
1 teaspoon salt
2 tablespoons honey
Grease an 8 1/2 by 4 1/2 inch (or a 9x5 inch) loaf pan and line with a strip of parchment, then grease parchment and dust pan with flour.
Dissolve the yeast in the warm water and set aside.
In the bowl of a stand mixer, combine the flour, bread flour, wheat germ, protein powder, milk powder and salt. Stir well.
Add the water/yeast mixture and the honey and stir until blended, then attach dough hook and allow the mixer to knead the dough for about 7 minutes or until it is smooth and elastic, stopping after a minute or two to scrape the side of the bowl. If dough is sticking to the sides, sprinkle more flour around the sides of the bowl. Dough should be fairly hefty and clear the sides. It should not be too sticky.
Transfer dough to a greased bowl. Cover and allow it to rise for about an hour or until doubled in bulk. This could take an hour to an hour and a half.
Punch down the dough, shape into a ball, then squish it into a brick shape and transfer to a loaf pan. Allow the dough to rise for another hour.
If desired, brush the top of the loaf with a little egg white and sprinkle on some pumpkin or sunflower seeds.
Bake at 350 degrees F. for about 50 minutes or until dough sounds hollow when tapped.
Let cool completely before slicing. Makes 1 30 oz loaf.
If you don't have the dry milk powder and want to use regular milk or a vegan milk such as almond milk, omit the dry milk powder and use 1 cup of milk (or almond milk) and 1/2 cup of warm water. Dissolve the yeast in the half cup of water. In my experience, the almond milk version has a slightly less rounded top.
Recipe by
Cookie Madness
at https://www.cookiemadness.net/2016/08/05/hemp-protein-powder-bread/