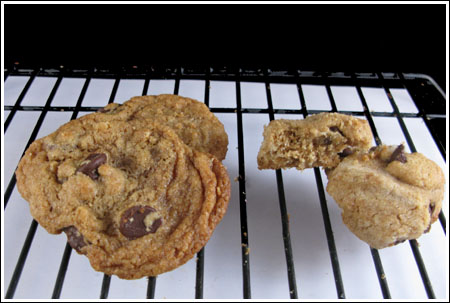 Experimental Vegan Whole Wheat Chocolate Chip Cookies
Author: Cookie Madness
Prep time: 10 mins
Cook time: 10 mins
Total time: 20 mins
Some Experimental Vegan Whole Wheat Chocolate Chip Cookies
1/2 cup (2 oz) whole wheat pastry flour (if no scale, lightly spoon and sweep) or 2.25 oz all-purpose, MAKE SURE TO AERATE OR WEIGH
1/4 cup vegetable oil -- use exactly 1/4 cup, no more and no less (for now)
2 tablespoons dark brown sugar, lightly packed
1/4 scant cup granulated sugar
1 tablespoon almond butter, I used Maranatha
1/2 teaspoon vanilla extract
1/4 teaspoon baking soda
1/4 teaspoon salt
1 tablespoon applesauce
Handful (up to you -- I like a lot) of vegan chocolate chips or chopped up vegan dark chocolate
Preheat oven to 375 degrees F. Line a cookie sheet with parchment paper or regular foil. Cookies will spread less if you use regular foil.
Stir flour and oil together in a bowl.. Mixture should start out wet and will become a little more firm as the flour absorbs the oil.
Add both of the sugars, almond butter, vanilla, baking soda, salt and applesauce. Stir well. Stir in chocolate chips.
Using a level tablespoon, scoop up dough and arrange 2 1/2 inches apart on baking sheet.
Bake 8-12 minutes or until edges or browned and cookies appear set.
This is a fun recipe to play with because the yield is small and all you have to do is stir ingredients together in a bowl. My dough always comes out kind of soft and oily and the cookies spread a bit. I used to make these with whole wheat pastry flour, but I just tried it with all-purpose (which weighs slightly more) and they were fine. It's important to use the right amount, though. Not sure if the recipe can be doubled and wouldn't try it yet.
Recipe by
Cookie Madness
at https://www.cookiemadness.net/2008/12/experimental-vegan-whole-wheat-chocolate-chip-cookies/