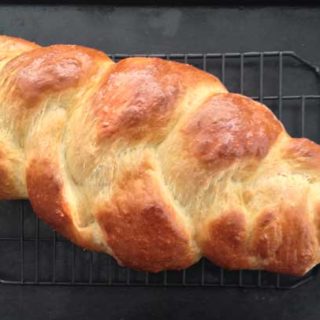 Author: Cookie Madness
Prep time: 100 mins
Cook time: 35 mins
Total time: 2 hours 15 mins
An easy Challah bread recipe
3 3/4 cups all-purpose flour (470 grams/16 oz), plus more if needed
1 packet Platinum quick rising yeast (or any quick rising)
1/4 cup sugar
1 1/2 teaspoons salt
1 1/2 tablespoons vegetable oil
2 large eggs
3/4 cup very warm water, more if needed
1 lightly beaten egg mixed with a little water for brushing
Combine the flour, yeast, sugar and salt in the bowl of a stand mixer and stir well. Add the oil, eggs and water and stir well, then attach dough hook and begin kneading. Dough should pull away from the side but stick to the bottom of the bowl as it kneads. If it is too sticky, add a little more flour. If it seems to dry, add a tablespoon or two of water.
Knead for about 8 minutes or until smooth and elastic.
Transfer to a well-oiled bowl and let rise until double in bulk (about an hour).
Punch down dough and divide into three equal pieces (about 10 oz each). Working lengthwise on a pastry mat, shape pieces into long (about 16 inches) strands and braid the strands to make one braided loaf. This takes practice! After braiding, carefully lift and put on the foil lined baking pan.
Allow the braided loaf to rise for about 35 to 40 minutes. I like to cover it with an inverted roasting pan while it's rising, but you could also tent it with greased plastic wrap.
Preheat oven to 350 degrees F.
Brush with lightly beaten egg mixed with a little water.
Bake for about 35 minutes or until top is brown and loaf sounds hollow when tapped.
Recipe by
Cookie Madness
at https://www.cookiemadness.net/2016/11/17/easy-challah-recipe-bread-pudding/