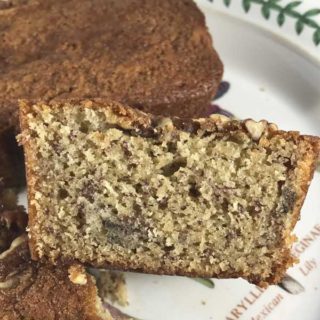 Dominique Ansel's Banana Bread
Author: Cookie Madness
Prep time: 20 mins
Cook time: 70 mins
Total time: 1 hour 30 mins
This banana bread recipe is adapted by one from French chef, Dominique Ansel. The original version calls for a very large loaf pan, but you can use any size so long as you adjust the bake time.
2 cups granulated sugar (400 grams)
2 cups all-purpose flour (270 grams)
3/4 teaspoon baking soda
1 teaspoon baking powder
3/4 teaspoon freshly ground nutmeg
1 teaspoon salt
3 large eggs
4 overripe bananas, mashed (480 grams)
14 tablespoons unsalted butter, melted
Preheat the oven to 350°.
Grease a 10x5x3 1/2 inch loaf pan (see note regarding other sizes).
In one bowl, whisk together the sugar, flour, baking soda, baking powder, nutmeg and salt.
In a separate bowl, whisk the eggs, then stir in the mashed bananas.
Pour the wet ingredients over the dry ingredients and mix together until just combined.
Stir in the melted butter until fully incorporated.
Pour the batter into prepared pan (or pans) and bake until a skewer or cake tester inserted in the center comes out clean, about 1 hour and 10 minutes.
Let cool completely before slicing.
I used 6 disposable loaf pans that measured 5 2/3 x 3 5/16 x 1 7/8 and 2 cups capacity each. Bake time was about 40 minutes.
Recipe by
Cookie Madness
at https://www.cookiemadness.net/2017/01/11/dominique-ansel-banana-bread/