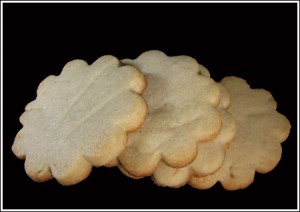 No-Fail Cut Out Sugar Cookies with No-Fail Icing
Author: Cookie Madness
Prep time: 10 mins
Cook time: 15 mins
Total time: 25 mins
No-Fail Cut Out Sugar Cookies with No-Fail Icing
3 cups all purpose flour (380 grams/13.5 oz)
1 teaspoon baking powder (5 ml)
2 sticks butter, unsalted, cool room temperature (230 grams/ 8oz)
1 cup granulated sugar (7.5 oz/210 grams)
1/2 teaspoon salt (2.5 ml) -- Use up to a teaspoon if you like sweet/salty
1 teaspoon vanilla extract (5 ml)
1/8 teaspoon lemon extract (or almond) (dash)
1 large egg
Icing:
2 sticks unsalted butter (8 oz/230 grams)
1 box confectioner's sugar (1 pound)
1 teaspoon vanilla extract
Whole milk as needed
Thoroughly stir together the flour and baking powder; set aside.
Beat the butter and sugar with an electric mixer until light and fluffy. Beat in the salt and extracts. Scrape sides of bowl and beat in egg, beating only until egg is blended in.
Add the flour mixture gradually (1 cup at a time) and stir until incorporated
Form the dough into a disc and wrap in plastic wrap. Refrigerate for at least 1 hour.
Preheat oven to 375 degrees F. Roll the dough onto a lightly floured surface to approximately 5/8" thick. Cut the cookies into shapes and place the cut cookie shape on a parchment lined cookie.
Bake the cookies for approximately 10 minutes or until the edges begin to turn golden brown in color. Remove cookies from the oven and allow to cool on a wire rack for 5 minutes.
Yield will vary depending on how big you make the cookies
Mix the softened butter and confectioner's sugar together in a bowl, then add in the vanilla extract. Beat with an electric mixer until it all comes together. Slowly add the milk or half & half and beat, beat, beat until creamy.
If you are making really large cookies, reduce the baking temperature to 350 and bake for a longer period of time or until edges are lightly browned.
Recipe by
Cookie Madness
at https://www.cookiemadness.net/2008/12/21/cut-cookies-no-fail-icing/