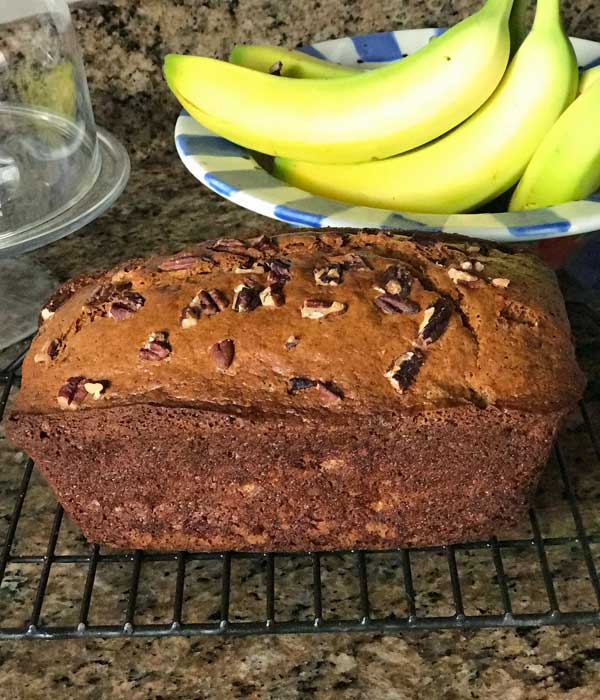 Author: Cookie Madness
Prep time: 10 mins
Cook time: 75 mins
Total time: 1 hour 25 mins
A nicely shaped banana bread made with butter and sour cream.
2 cups SIFTED all-purpose flour (240 grams)
1 teaspoon baking powder
1/2 teaspoon baking soda
1/2 teaspoon salt
3/4 teaspoon cinnamon (optional)
1 cup granulated sugar (200 grams)
1/2 cup (114 grams) butter, softened
1 teaspoon vanilla extract or vanilla beat paste
2 large eggs, at room temperature
2 large ripe medium bananas, mashed (8 oz/230 grams)
1/2 buttermilk
1 cup walnut pieces
Preheat the oven 350°F Grease and flour a 9x5 inch loaf pan.
Whisk or sift together the flour, baking powder, baking soda, salt and cinnamon. Make sure all the ingredients are very thoroughly mixed at this point because the batter is thick.
Combine the sugar and butter in the bowl of a stand mixer and beat until creamy. Scrape sides of bowl and add the eggs one at a time, beating just until blended.
Add the vanilla and the bananas and stir well, then add the flour mixture and the buttermilk alternately, mixing until blended.
Stir in the walnuts.
Transfer batter to loaf pan and bake for about 60 to 75 minutes (test it after 60) or until a toothpick inserted in the center comes out clean.
Let cool on a rack for 10 minutes.Loosen edges with a knife and let cool for another 30 minutes, then invert from pan and let cool completely.
I use a Pyrex loaf pan for this and the bake time is almost always 75 minutes. Time may vary depending on type of loaf pan. I also like to line the loaf pan with a strip of parchment.
Recipe by
Cookie Madness
at https://www.cookiemadness.net/2017/02/14/banana-walnut-bread/