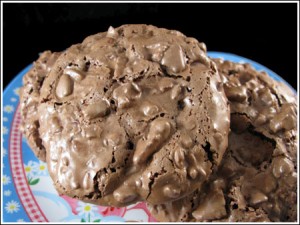 Author: Cookie Madness
Prep time: 10 mins
Cook time: 10 mins
Total time: 20 mins
Chocolate cookies made with egg whites and pecans.
1 3/4 cup powdered sugar
1/3 cup unsweetened natural cocoa powder
1/8 teaspoon salt
2 large egg whites,
1/2 teaspoons vanilla
1 1/3 cup toasted and finely chopped pecans
Preheat oven to 400 degrees F. Line two large baking sheet with parchment paper or nonstick foil.
Stir powdered sugar, cocoa powder, and salt together in a bowl
Place egg whites in very clean metal or glass mixing bowl. Add the sugar mixture and stir with a rubber scraper, scraping sides of bowl, until ingredients are well mixed and batter is smooth and thick.
With a handheld electric mixer, beat for exactly two minutes. Mixture will thicken slightly, but it will not be light and fluffy like meringue. Stir in pecans.
Working quickly, drop the batter onto the baking sheets by rounded tablespoons, spacing about 2 1/2 inches apart. Bake the cookies on the center and lower rack for 10-12 minutes or until dry, puffed and cracked on the surface.
Let the cookies cool for about 5 minutes on the parchment paper. Carefully remove cookies and let cool completely on a wire rack.
Store cookies in an airtight container or freeze.
To toast the pecans, spread on a baking sheet and bake at 350 for about 6 to 8 minutes or toast in a dry skillet.
Recipe by
Cookie Madness
at https://www.cookiemadness.net/2009/01/01/pecan-chewies/