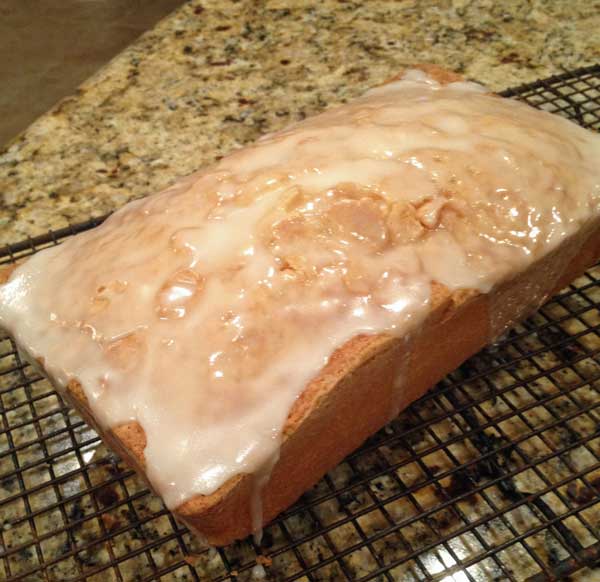 Boyajian Lemon Pound Cake
Author: Cookie Madness
Prep time: 20 mins
Cook time: 90 mins
Total time: 1 hour 50 mins
This lemon pound cake bakes at a low and slow 300 degrees. They key ingredient is Boyajian lemon oil which gives it a clean lemon flavor that's not too tart nor artificial tasting.
3 large eggs, room temperature
1 1/2 sticks (175 grams) unsalted butter, softened
1 1/4 cups (245 grams) granulated or super fine sugar (I used C&H Baker's Sugar)
1/2 cup sour cream, room temperature
1 1/2 teaspoons Boyajian lemon oil
1/4 teaspoon salt
1/8 teaspoon baking soda
1 1/2 cups (180 grams) sifted all-purpose flour (measure AFTER sifting)
Icing:
1 1/2 tablespoons of fresh lemon juice
Confectioners sugar as needed (About 1/3 to 1/2 cup)
Preheat oven to 300 degrees F. Grease and flour a 9x5 inch loaf pan. A Pyrex loaf pan works quite nicely!
Put the eggs in a bowl and beat them until yellow. Set aside.
In the bowl of a stand mixer, beat the butter and sugar together until creamy. Add the beaten eggs, sour cream, lemon oil and salt all at once, then beat for about two minutes or until well blended. Beat in the baking soda.
Using low speed of mixer (or by hand), add the flour gradually, stirring until it is well blended. Beat by hand until it is just thoroughly mixed, but don't overbeat after adding the flour.
Pour into pan and bake and spread evenly with a scraper. Draw the sraper through the center of the batter to remove any air bubbles.
Bake at 300 for 90 minutes or until cake tests done.
Let cool on a wire rack.
To make the icing, put the lemon juice in a large glass measuring cup, then add confectioners' sugar a few spoonfuls at a time, stirring until the icing is thin enough to drizzle. Spoon it over the cake and let it set.
This cake tastes even better on the second day. It also freezes well.
Recipe by
Cookie Madness
at https://www.cookiemadness.net/2017/02/28/boyajian-lemon-oil-pound-cake/