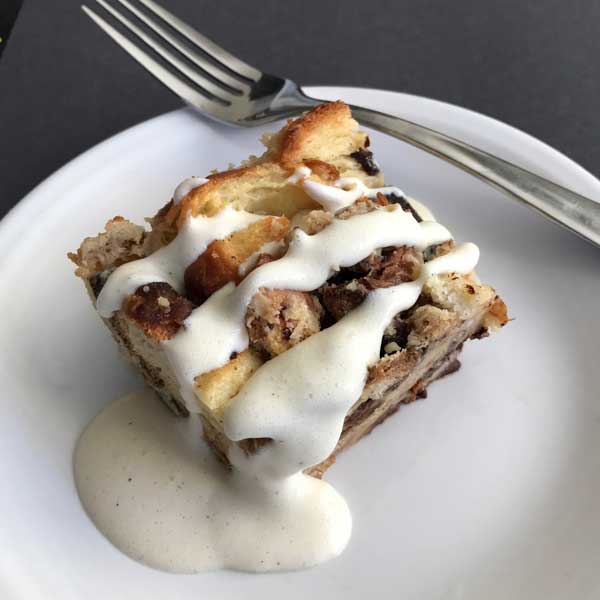 Author: Cookie Madness
Prep time: 70 mins
Cook time: 35 mins
Total time: 1 hour 45 mins
This croissant bread pudding is baked in an 8 inch dish.
4 tablespoons unsalted butter, cut into chunks (room temperature)
1/2 cup sugar
3/4 teaspoons ground cinnamon
1/2 teaspoon vanilla extract
2 large eggs, lightly beaten
1 large egg yolk or 2 tablespoons of lightly beaten egg
1 1/4 cups heavy cream
6 croissants , toasted and cut into 1 inch chunks (I used 1/2 pound)**
1/4 cup raisins (optional)
1/3 to 1/2 cup bittersweet chocolate, roughly chopped
Bourbon Ice Cream Sauce
1 1/2 cups vanilla ice cream, thawed in refrigerator
2 tablespoons bourbon
Preheat oven to 350 degrees F. Grease an 8 inch square 2 quart glass dish.
In a food processor, combine butter and sugar and process until well blended. Add cinnamon, and vanilla, and pulse to combine. While the processor is running add the eggs and yolk. Turn off the processor and scrape down the sides. Add the heavy cream and pulse to combine.
Layer the croissants in the pan. Scatter the raisins (if using) and chocolate over the top, and gently mix to incorporate. Pour the egg mixture over the croissants; soak for 10 minutes. Push croissants pieces down during this time to ensure even coverage by egg mixture.
Cover with foil and bake for 35 minutes. Remove foil and bake for additional 8-10 minutes or until it appears just set but still soft. Let cool.
You can serve it at room temperature or cold. I recommend letting it cool, chilling it, then letting it come back to cool room temperature before serving.
Serve with the Bourbon Ice Cream Sauce. To make the sauce, stir together the melted ice cream and however much bourbon you like and spoon over pieces.
I used half a pound of croissants and liked the dense texture. If you want a softer and more custard-y texture you might want to use 6 oz croissants.
Recipe by
Cookie Madness
at https://www.cookiemadness.net/2017/03/13/croissant-bread-pudding/