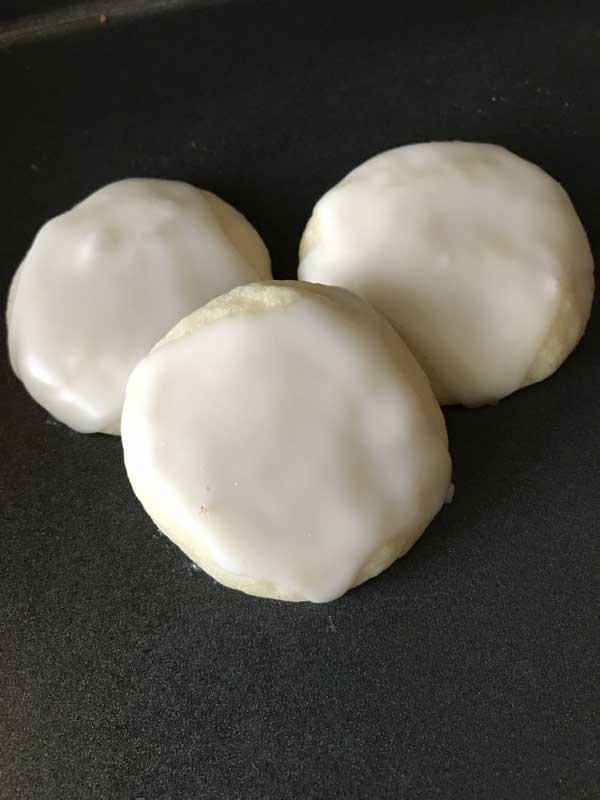 Author: Cookie Madness
Prep time: 20 mins
Cook time: 8 mins
Total time: 28 mins
Almond Meltaways are like tiny sugar cookies with a sweet almond flavored icing that hardens. This version is adapted from a recipe by The Novice Chef.
Cookies
2 cups all purpose flour (280 grams)
1/2 teaspoon baking powder
3/4 teaspoon salt (omit if using salted butter)
2 sticks (230 grams) unsalted butter, softened
3/4 cup (150 grams) granulated sugar
1 egg
1 teaspoon almond extract
1/2 teaspoon vanilla or butter extract
Icing
2 cups confectioners' sugar
1 teaspoon vanilla extract
1 teaspoon almond extract
1/4 cup whole milk
Preheat oven to 375 degrees F.
In a large bowl, whisk together the flour, baking powder and salt.
Combine the butter and sugar in a mixing bowl and beat with an electric mixer until light and creamy. Add the egg and stir until blended, then scrape the bowl and beat until fluffy.
Beat in the extracts.
Gradually add flour mixture, stirring until fully blended.
Shape dough into about 60 small (1 inch) balls. Place them about 2 inches apart on ungreased baking sheets. Flatten balls slightly and bake for about 8 minutes or until set. They will not brown, so don't look for brown edges.
Let rest on cookie sheet for about 3 minutes, then carefully transfer to a wire rack to finish cooling. When cookies are completely cool, making the icing.
Put the sugar in a small yet deep bowl. Mix the extracts and the milk, then add milk mixture 1 tablespoon at a time, stirring constantly, until mixture is opaque and creamy. Add more milk if needed.
Recipe by
Cookie Madness
at https://www.cookiemadness.net/2017/03/28/almond-meltaways/