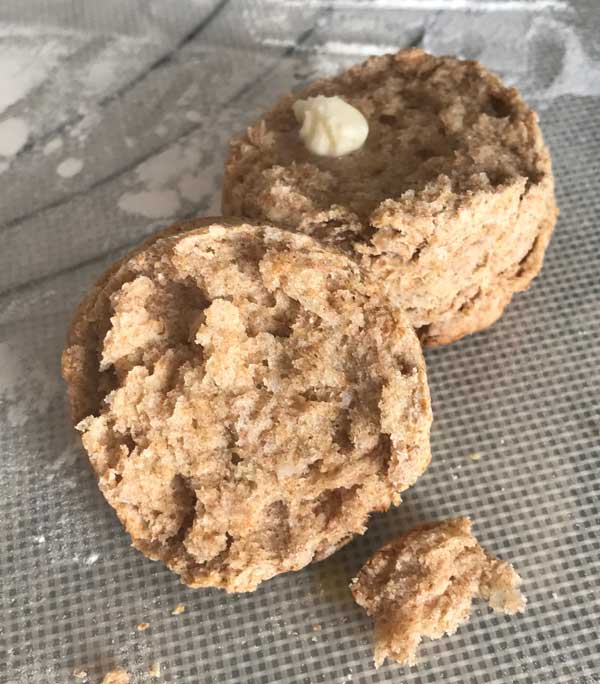 Honey Whole Wheat Biscuits
Author: Cookie Madness
Prep time: 10 mins
Cook time: 15 mins
Total time: 25 mins
Slightly sweet biscuits made with whole wheat flour and a touch of honey.
2 1/2 cups (315 grams) whole wheat flour
1/2 cup (63 grams) unbleached bread flour
2 1/2 teaspoons baking powder
1/2 teaspoon baking soda
3/4 teaspoon salt
1 stick (114 grams) unsalted butter, coled
1 large egg (60 grams)
3/4 cup (70 grams) buttermilk
3 tablespoons (60 grams) honey
Preheat oven to 400 degrees F. Line a baking sheet with parchment paper.
Whisk together both flours, baking soda and salt.
Using a food processor or a pastry cutter, cut the butter into the flour mixture until mixture is crumbly.
In a separate bowl, whisk together the egg, buttermilk and honey. Add this mixture all at once to the flour mixture and blend until evenly moistened. It will still be shaggy and crumbly at this point.
Turn the dough onto a floured work surface. Using a bench scraper or a pie lifter, fold the dough over on itself and press down. Repeat twice until it all comes together.
Roll dough until it is somewhere between 3/4 and 1 inch thick, then cut into rounds using a 2 inch cutter.
Arrange on baking sheet, brush tops with buttermilk and bake 15 to 20 minutes
King Arthur says the yield is 12 biscuits, but I quartered it and got 4 so I'm not sure what happened! They tasted great.
Recipe by
Cookie Madness
at https://www.cookiemadness.net/2017/05/09/honey-whole-wheat-biscuits/