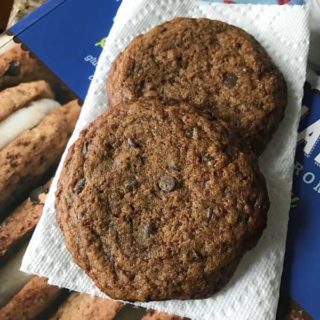 Gluten-Free Coconut Sugar Chocolate Chip Cookies
Author: Cookie Madness
Prep time: 75 mins
Cook time: 12 mins
Total time: 1 hour 27 mins
Allergy Friendly Chocolate Chip Cookies that are gluten-free and made with coconut sugar instead of refined sugar.
2 cups Bob's Red Mill gluten-free all-purpose baking flour (270 grams)
1 1/2 cups coconut sugar (220 grams) --
1/4 cup flax meal (30 grams)
1 1/2 teaspoons xanthan gum
1 teaspoon baking soda
1 teaspoon kosher salt or sea salt
6 tablespoons unsweetened applesauce
2 tablespoons vanilla
1 cup melted coconut oil (measure by volume)**
1 cup dark chocolate chips (use more if desired)
Preheat the oven to 350 degrees F. Line two large baking sheets with parchment.In a large mixing bowl, whisk together the gluten free flour, coconut sugar, flax meal, xanthan gum, baking soda and salt.
In a second bowl, whisk together the applesauce, vanilla and all but 2 tablespoons of the coconut oil.
Stir the wet ingredients into the dry ingredients until blended. If the batter seems too greasy before you've add the last couple of tablespoons, you can leave them out and add the chocolate chips. Otherwise, add the remaining 2 tablespoons coconut oil and stir until you have a soft but scoopable dough. Stir in the chips.
Scoop about 24 equal size portions of dough (about 40 grams each) and arrange 3 inches apart on baking sheets. Press down to make 1/2 inch thick rounds.
Bake at 350 for about 12 minutes, turning the tray halfway after the first 8 minutes. For smaller cookies, divide the dough sections in half and bake the cookies at 325 for about 10 to 12 minutes.
The recipe is based on one from Sweet Freedom Bakery in Philadelphia. The yield is 24 large cookies, but it's really easy to halve if you only need 12. You can also make the cookies smaller and get 48. Play around and see what size you like best. Whatever size you choose, the cookies will be thin and fairly chewy.

The batter can be greasy depending on how the flour is measured and the brand of coconut sugar, so I recommend not adding all the coconut oil at once in case you need to hold back on a tablespoon or so. And finally, I've only tested with Bob's Red Mill Gluten Free All-Purpose Baking Flour. Other brands should work, but you might need to adjust the amount somewhat. I'm happy with Bob's (which is what Sweet Freedom recommends) because I like the flavor, it's not too expensive and it's easy to find.Make sure to measure the coconut oil after you've melted, as melted coconut oil and solid coconut oil don't measure the same.
Recipe by
Cookie Madness
at https://www.cookiemadness.net/2017/05/20/gluten-free-coconut-sugar-chocolate-chip-cookies/