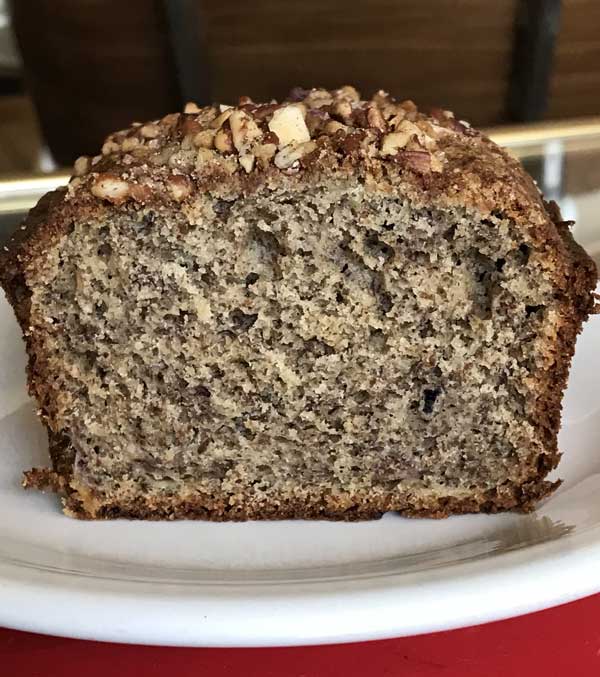 Author: Cookie Madness
Prep time: 10 mins
Cook time: 60 mins
Total time: 1 hour 10 mins
Flax Banana Bread
1 3/4 cups all-purpose flour (220 grams)
3/4 cup flaxseed meal (70 grams)
3/4 cup sugar (150 grams)
1 teaspoon baking powder
1/2 teaspoon baking soda
1/2 teaspoon salt
2 large eggs
6 tablespoons vegetable oil
1 teaspoon vanilla extract
1 1/2 cups (12 oz) mashed bananas
1/3 cup finely chopped pecans
Preheat oven at 350°F. Grease a 9x5 inch loaf pan. Line with a strip of parchment if desired.
Thoroughly whisk together flour, flax, sugar, baking powder, baking soda and salt. Set aside.
In a separate bowl, whisk together the eggs, oil and vanilla.
Add the bananas and flour mixture alternately to the egg mixture, stirring until blended. It will be very thick. Stir in the nuts.
Bake 55-60 minutes, then let cool for about 20 minutes before loosening from pan. Remove from pan and let cool completely before slicing.
Recipe by
Cookie Madness
at https://www.cookiemadness.net/2014/06/11/flax-banana-bread/