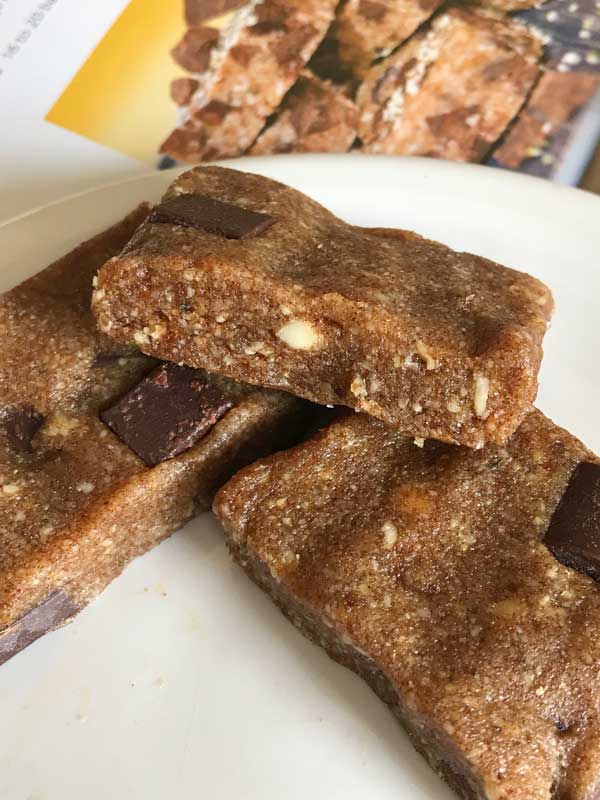 Raw Hemp Chocolate Chunk Blondies
Author: Cookie Madness
Prep time: 300 mins
Cook time: 1 min
Total time: 5 hours 1 min
Raw Hemp Chocolate Chunk Blondies are made by blending nuts, coconut and dates in the food processor.
2/3 cup (86 grams) slivered almonds
2/3 cup (54 grams) shredded coconut
1 cup cashews, raw unsalted (140 grams)
1 cup (180 grams) dates
1/3 cup (40 grams) hemp seeds
1 1/2 teaspoon vanilla extract
1 teaspoon water
1/8 teaspoon salt
1 1/2 cups (260 grams) dark chocolate, cut into chunks (I used less)
Line an 8 inch square pan with nonstick foil or parchment paper.
In a food processor or high powered blender, grind the almonds and coconut. Add the cashews and process briefly, then add the dates, hemp seeds, vanilla, water and salt. Process until dates are broken down.
Transfer to a bowl and fold in the chocolate chunks. Press dough into the pan and chill for 4 hours.
Lift from pan and cut into 16 to 20 bars.
Recipe by
Cookie Madness
at https://www.cookiemadness.net/2017/06/21/raw-hemp-chocolate-chunk-blondies/