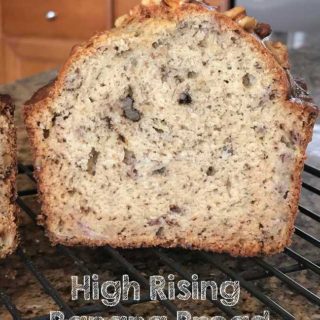 Author: Cookie Madness
Prep time: 15 mins
Cook time: 60 mins
Total time: 1 hour 15 mins
High Rising Banana Bread is a not-too-sweet, firm, banana bread that always rises high.
1 1/2 cups (200 grams) all-purpose flour
1/2 cup (70 grams) whole wheat flour
3/4 cup (150 grams) of sugar
3/4 teaspoon baking soda
1/2 teaspoon salt
3 large ripe bananas (13 oz)
1/4 cup sour cream
2 large eggs
3 tablespoons unsalted butter, melted
3 tablespoons oil, canola or melted coconut
1 teaspoon vanilla extract
½ cup chopped pecans or walnuts
Preheat the oven to 350 degrees F. Grease the bottom and short sides of an 8 ½ by 4 ½ or a 9x5 inch loaf pan and line with a strip of parchment. Grease again, then dust with flour.
Whisk together both of the flours, sugar, baking soda, salt, and salt. When you whisk, do it very thoroughly so that all dry ingredients are evenly distributed.
In a large bowl, mash the bananas with a fork, then stir in the sour cream, eggs, and vanilla.
With a heavy duty scraper, stir the dry ingredients into the banana mixture.
Pour the melted butter and oil over the batter and stir with a heavy scraper until well blended – do not overbeat, just gently fold.
Transfer batter to the pan and spread evenly. Sprinkle nuts over the top.
Bake for 60 minutes or until it appears cracked on top and a toothpick inserted comes out clean
Let cool for about half an hour, then loosen from pan. Let cool for another half hour, then remove from pan and let cool completely.
For a cream cheese swirl version, beat together 3 oz cream cheese, softened (84 grams), 5 teaspoons sugar, 2 tablespoons lightly beaten egg and 1/2 teaspoon vanilla extract. Put all but about 2 tablespoons of banana bread batter in the pan, then drop spoonfuls of cream cheese mixture over the top. Drop remaining spoonfuls of banana flavored batter over the cream cheese and drag a knife through gently to make a marbled pattern. Bake for 60-70 minutes.
Recipe by
Cookie Madness
at https://www.cookiemadness.net/2018/05/22/high-rising-banana-bread/