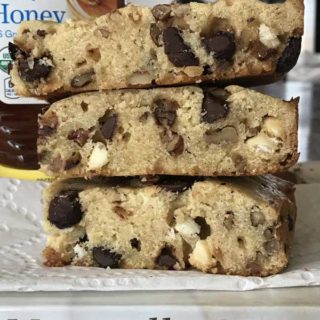 Naturally Sweet Honey Blondies
Author: Cookie Madness
Prep time: 10 mins
Cook time: 22 mins
Total time: 32 mins
Honey Blondies recipe based on one from America's Test Kitchen Naturally Sweet. These are velvet-y and soft with richness from the chips and nuts, so don't reduce the add-ins.
1 1/4 cups (6.25 oz/175 grams) all-purpose flour
1/2 teaspoon salt
1/4 teaspoon baking powder
8 tablespoons (114 grams) unsalted butter, melted and cooled
6 tablespoons honey
1 large egg plus 2 large yolks
4 teaspoons vanilla
½ cup toasted and chopped pecans
3 oz semisweet chocolate chips
3 oz white chocolate chips
Preheat oven to 350 degrees. Line the inside of an 8 inch square metal pan with foil. I use nonstick foil.
In a medium bowl, combine flour, salt and baking powder.
In a large bowl, whisk together cooled melted butter, honey, egg, egg yolks and vanilla. Whisk in flour mixture, then fold in pecans, chocolate chips and white chocolate chips. Pour into prepared pan and smooth the top.
Bake on the center rack for 23 to 25 minutes, until slightly browned on the edges. Do not overbake. Let cool in pan for at least 20 minutes. Lift from pan and cut into bars or squares.
I'm not a huge fan of white chips, but I followed the directions and feel they do indeed work quite nicely here. The next time I make these I plan to use Brazil nuts.
Recipe by
Cookie Madness
at https://www.cookiemadness.net/2017/07/23/naturally-sweet-honey-blondies/