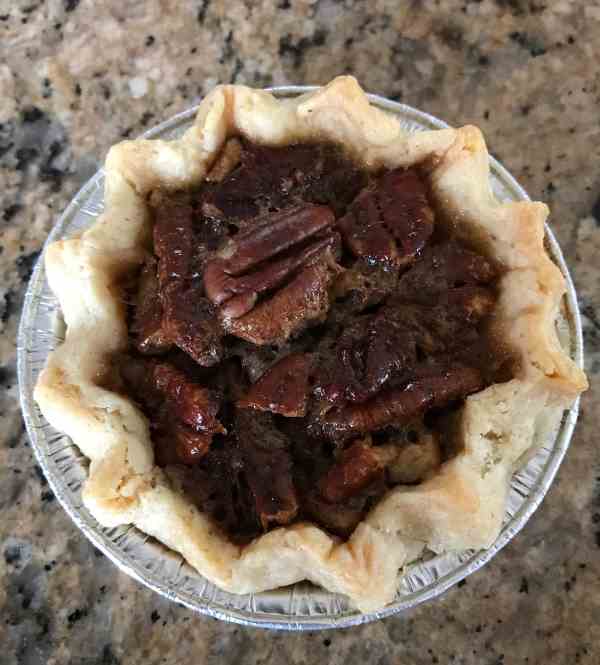 Author: Cookie Madness
Prep time: 30 mins
Cook time: 35 mins
Total time: 1 hour 5 mins
Miniature pecan pies made with a blend of maple syrup and corn syrup.
Crust:
1 1/4 cups (5.8 oz) of all-purpose flour or whole wheat pastry flour
1 1/2 teaspoons granulated sugar
1/2 teaspoon salt
1 stick (114 grams) very cold unsalted butter
4-6 tablespoons of ice cold water or as needed
Filling
1 cup pecan halves (add more if needed)
2 large eggs
1/2 cup light brown sugar (!00 grams)
1/2 cup maple syrup
1/3 cup light corn syrup
1/2 teaspoon vanilla extract
1/8 teaspoon salt
3 tablespoons unsalted butter, melted
Weigh out the flour and put it in a large mixing bowl. Stir in the sugar and salt, then using a grater, grate or shred 1/3 of a stick of butter over the flour. Toss gently with a fork and repeat twice until you've used all the butter. With a pastry cutter or your fingers, mix until crumbly.
Add about 3 tablespoons of water and mix with a spoon or heavy scraper. Keep adding water until dough just barely comes together. Dump the mixture onto a pastry mat or clean surface.
Shape into one round, then cut that round into 8 pieces. Wrap in plastic wrap and let it rest in the refrigerator for at least 30 minutes, preferably longer. While the dough is resting, make the filling.
Lay pecans on a baking sheet and bake at 350F for about 6-8 minutes or until toasted. Set aside.
Whisk the eggs lightly in a mixing bowl. Whisk in the sugar, both syrups, vanilla and salt, then stir in the butter. Keep pecans handy, but don't stir them into the mixture.
Assemble the pie shells. Working on shell at a time, roll a section of dough into a 4 1/2 inch circle and fit it into a pie pan. Crimp the edges. You should have 8 pie shells.
Divide the toasted pecans among the pie shells.
Give the filling another quick stir, then carefully divide among your 8 miniature pie shells, pouring over the pecans. Set on them on a foil lined baking sheet.
Bake at 400 for 10 minutes, then reduce heat to 325 degrees and bake for another 20 minutes.
Let pies cool at room temperature for a few hours. Store in refrigerator until ready to serve. Alternatively, freeze the pies and thaw before serving.
This is a miniaturized version of the Newman's pie on Epicurious.
Recipe by
Cookie Madness
at https://www.cookiemadness.net/2017/08/17/mini-maple-pecan-pies/