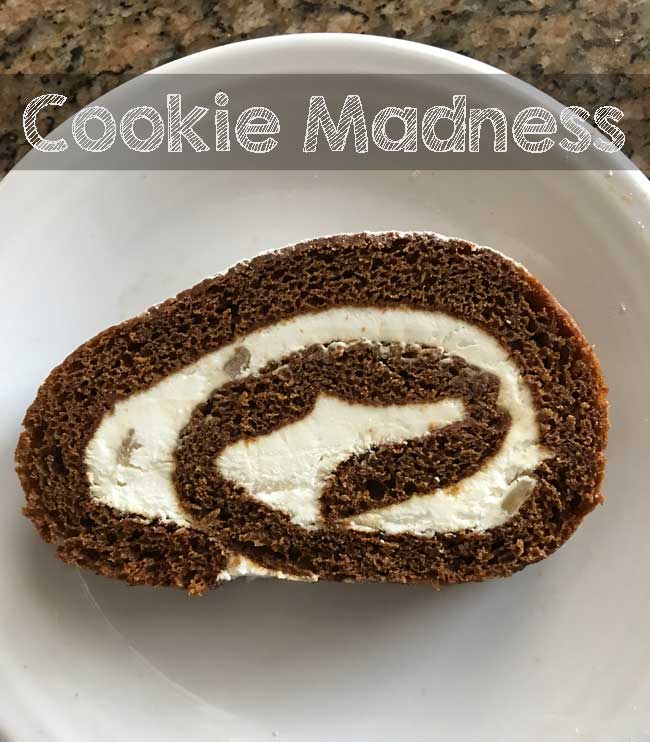 Author: Cookie Madness
Prep time: 60 mins
Cook time: 12 mins
Total time: 1 hour 12 mins
A gingerbread cake roll filled with vanilla cream.
Cooking spray
4 large eggs, separated, at room temperature
1 cup all-purpose flour
1 teaspoon ground cinnamon
1 teaspoon ground ginger
1/2 teaspoon baking powder
1/4 teaspoon baking soda
1/4 teaspoon freshly grated nutmeg
1/4 teaspoon ground cloves
1/4 teaspoon salt
2 tablespoons unsalted butter, melted and cooled
3/4 cup molasses
1/4 cup granulated sugar
Confectioners' sugar, for dusting
1 cup cold heavy cream
3/4 cup confectioners' sugar
8 ounces mascarpone cheese, at room temperature
1 teaspoon pure vanilla extract
1/3 cup finely chopped candied citrus peel (lemon and/or orange)
Topping
2 tablespoons confectioners's sugar
Pinch of cinnamon
Preheat the oven to 375 degrees F. Spray an 11-by-17-inch rimmed baking sheet or jelly roll pan with cooking spray; line the bottom with parchment paper.
Separate the eggs. Put the yolks in mixing bowl and the whites in the bowl of a stand mixer with whisk.
Whisk the flour, cinnamon, ginger, baking powder, baking soda, nutmeg, cloves and salt in a medium bowl; set aside.
Beat the egg whites and granulated sugar with a mixer on medium-high speed until stiff peaks form, 5 minutes. Set aside.
Whisk the egg yolks, melted butter and molasses together in the other bowl.
Stir the flour mixture into the yolk mixture until smooth.
Stir one-third of the whites into the batter with a rubber spatula, then fold in the remaining whites in two batches. Spread the batter in the prepared pan; bake until a toothpick inserted into the center comes out with just a few crumbs, 10 to 12 minutes.
Immediately sift confectioners' sugar generously over the top of the warm cake and loosen the edges with a knife; lay a clean kitchen towel (not terry cloth) over the cake. Place another baking sheet over the towel and flip the cake with the baking sheets to invert it onto the towel. Remove the top baking sheet and parchment. Starting at a short end, roll up the cake and the towel together into a spiral. Transfer seam-side down to a rack and let cool completely.
Meanwhile, make the filling: Beat the heavy cream and confectioners' sugar with a mixer on high speed until soft peaks form. Beat in the mascarpone and vanilla. (Do not overbeat.) Fold icandied citrus with a rubber spatula.
Make the topping: Combine the 2 tablespoons confectioners' sugar and cinnamon.
Gently unroll the cake. Spread the filling over the cake about 1/4 inch from the edges; reroll (without the towel). Trim the ends with a serrated knife. Transfer to a platter; dust with the spice mixture.
Recipe by
Cookie Madness
at https://www.cookiemadness.net/2017/12/16/gingerbread-cake-roll/