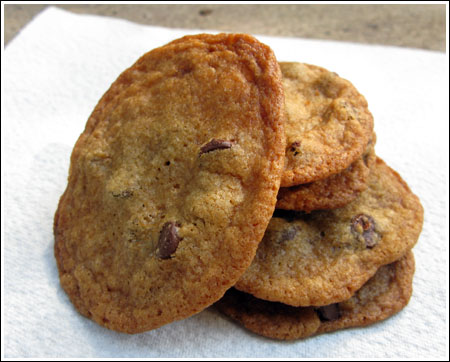 More Thin & Crispy Chocolate Chip Cookies
Author: Cookie Madness
Prep time: 10 mins
Cook time: 12 mins
Total time: 22 mins
Perfect thin and crispy chocolate chip cookies. For best results, use the gram amounts.
4 oz *cool* unsalted butter (1 stick) – 114 grams
1/4 cup granulated sugar 48 grams
3/4 cup brown sugar, firmly packed 140 grams
1/4 teaspoon vanilla
1 large egg
1 cup plus 2 tablespoons flour (140 grams)
1/2 teaspoon baking soda
1/2 teaspoon salt
1 cup chocolate chips (use more or less as desired)
Don't preheat the oven quite yet because there is a short chill time.
Beat the cool butter until creamy using an electric mixer. Beat in both sugars, and vanilla. When creamy, beat in the egg. When egg is mixed in, beat in salt and baking soda – beat just enough so that the soda and salt are fully mixed in, but don't go crazy beating the batter. Add flour and stir until it is almost blended in. Add the chocolate chips and stir until all flour disappears. Chill the dough for about a half hour (or longer).
Preheat to 350 degrees F.
Drop dough by rounded teaspoonfuls onto the parchment lined cookie sheets. Bake one sheet at a time on center rack for 8 to 10 minutes or until edges are golden brown.
Update: Before I chill the dough, I scoop about 36 to 40 (approximate - will vary) rounded teaspoons onto a foil lined tray or a couple of plates. I then chill the scooped dough until it is very firm. When firm, I roll the individual bits into compact balls, press them slightly so that the tops are flat, then bake just until they are mostly brown and the centers are just slightly pale. They will be VERY thin. I then remove the parchment with the baked cookies from the tray and allow the cookies to cool on the parchment. When they are firm enough to lift, I put them on a cooling rack and let cool completely.
The cookies should get very brown around the edges, but do take care not to burn the bottoms.
Recipe by
Cookie Madness
at https://www.cookiemadness.net/2009/02/more-thin-crispy-chocolate-chip-cookies/